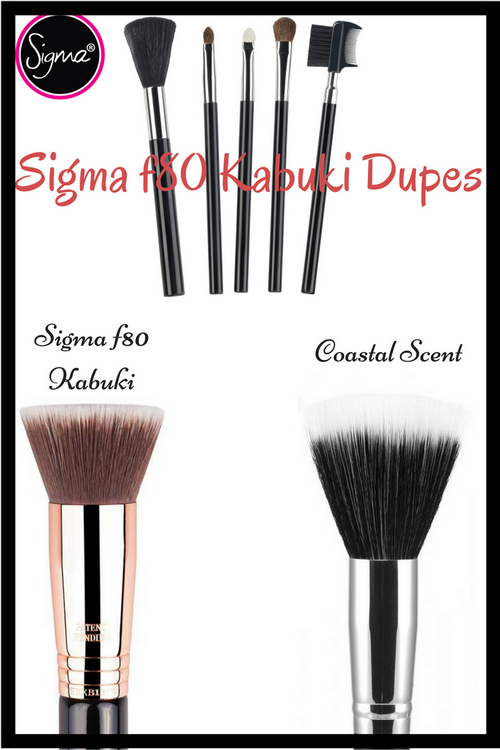 Sigma f80 Dupes: Kabuki Equivalents
Sigma – a famous American brand, which produces professional brushes for make-up of high quality, for example Kabuki foundation brush. To date, Sigma, in addition to professional brushes and accessories, represents a line of cosmetic products, namely:
cream shades;
palette sets (shadows, rouge, eyeliner, etc.);
rouge;
highlighter;
much more.
Sigma brushes are one of the most popular worldwide but expensive. Not all women can afford buying f80 flat Kabuki brush for $25.00 that's why many other cosmetic companies decide to release Sigma f80 brush dupes basing on the following brushes:
3D kabuki brush (angled, flat and round);
Precision – Copper – White;
Precision Brush;
Max Kabuki;
3D Blender;
4D Kabuki;
Bent Liner Brush;
Lash Fan Brush;
Eye Liner Brush;
many others.
The following sigma f80 brush dupe are in the greatest request:
Elf C Brush – $3.00;
Elf Blush Brush –

$3.00

;
M325 Large Pro Angle Blender brush –

$3.49

;
Real Techniques Shading Brush –

$4.79

;
MB23 Round Blender brush –

$5.95

;
Sonia Kashuk Core Tools Brush –

$6.99

;
Real Techniques Expert Face Brush –

$6.49

;
Real Techniques Blush Brush –

$7.19

;
Real Techniques Core Collection –

$13.19

;
E35 Tapered Blending brush –

$ 16.00

.
A lot of women have a desire to find a dupe of an exact brush released by Sigma, exactly f80 Kabuki brush. I try to select the most affordable dupes offered. This video helps you choose inexpensive brushes if you have no opportunity to buy f80 makeup brush:
As it is described in this video, the most affordable dupes of f80 Sigma top brush are:
Airbrush Buffing Foundation Brush #110;
Nanshy Foundation Brush;
Beauty Junkee Brushes;
Mojo Beauty Brushes.
There is no woman who prefers to buy expensive brush, if she has found a dupe meeting all the brand characteristics. Moreover, the most attractive thing is money savings. You may choose a set of brushes and test them all.