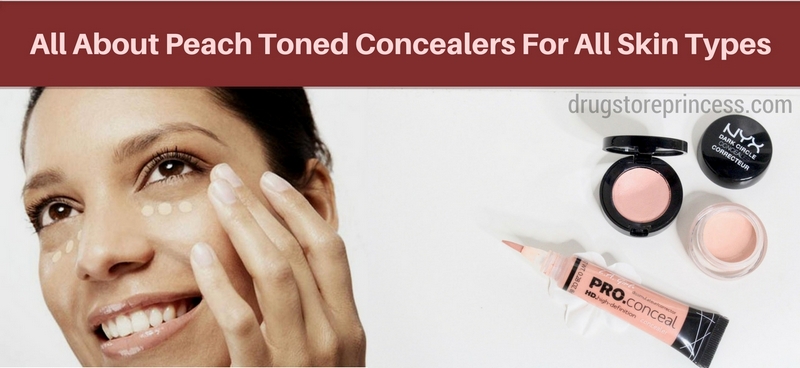 Choosing Drugstore Peach Toned Concealer & Best Concealers 2017 For All Skin Types
Make-up is real science, and you need to know all nuances! Today I want to review a tonal foundation – a peach toned concealer. How to choose it correctly basing on the skin's characteristics and type of make-up?
What is a peach concealer?
A peach concealer is a tonal remedy that is used to achieve perfectly even eye area. This is especially important for girls who have dark areas under the eyes. Depending on the type of concealer, the principle of its application may differ. With this make-up tool, you can visually enlarge your eyes, make them expressive and brilliant.
Many women believe that concealer is the same foundation, only in a small package. This is not true. This is a special cosmetic product designed to lighten and mask the imperfections around the eyes. The components help to lighten freckles, dry pimples, and completely hide the blue around the eyes. In addition, some concealers contain vitamins and trace elements taking care of the skin. Thus, they take an intermediate position between decorative and therapeutic cosmetics. The usual foundation is deprived of these qualities and instead of masking emphasizes the dark areas even more.
Types of concealers
The modern cosmetic market offers several types of peach tone correctors:
Liquid. Perfectly suitable for the skin in the eye area, it is easy to apply and shade. But I must say that the liquid product makes the skin unnatural if used improperly. In this regard, it should be applied with small point movements;
A pencil. Convenient to use, does not clump. However, I do not recommend using it often. The pencil rod is quite dense and has a rough effect, which can lead to wrinkles;
Twisting concealer-brush. Great for eye care. A comfortable brush makes application light and even.
Concealer or corrector?
There is a wrong opinion that the corrector and concealer are absolutely identical products. In fact, the corrector is designed to hide scars and acne. In addition, it has a strong drying effect, which can damage the eye area. The concealer has the opposite effect. It moisturizes the skin and has a very soft texture. That's why it is used to mask dark areas under the eyes.
How to choose a drugstore peach toned concealer?
You should approach this choice seriously. Start with determining the nature of dark areas under the eyes.
If dark areas are caused by individual anatomical and physiological features (thin translucent skin, deep-set eyes or close position of the vessels), then you should buy a cosmetic with a dense structure;
If dark areas are not very pronounced and appear due to fatigue, you should give preference to a softer texture that contains moisturizing and caring components.
Choose a peach tone corrector depending on the weather conditions and the time of a year. In winter and in autumn I use moisturizers of dense texture. But for the summer season, I choose low-fat light concealers.
Choosing a drugstore peach concealer for your skin type
The decisive role is played by the color of the product. The opinion that the concealer should be several tones lighter than the skin does not always find an excuse.
If your skin has an earthy or dull color, use refreshing beige concealers. They not only hide the flaws, but also give your face a healthier, shinier appearance;
Women with pale skin should choose gentle pink or peach tones. Too dark foundation will make your eye area yellow-brown;
If you have reddish areas under the eyes or they are caused by a vascular disorder, you need to use greenish shades. Your skin will acquire a natural flesh tinge;
Blue and lilac ares are well masked by yellow and apricot shades, regardless of the natural color of the skin.
How to apply a drugstore peach toned concealer?
To make your eye area look natural, you need to know a few rules:
If you have a dry skin, be sure to apply moisturizer before using a concealer. Wait until it is well absorbed, and only then proceed to mask the flaws;
First of all, your face must be cleaned and moistened;
The next stage is applying a tonal base on your face. After that you can start applying a drugstore peach color corrector;
Using finger pads or a special brush, make several dot-smears of the remedy on the eyelid and gently shade it. If you work with your fingers, do not rub the remedy in any way, but try to gently "drive" it into the skin.
After the product has dried up, I use a transparent powder. It makes my makeup more natural. Before going to bed, make sure to remove makeup and apply a special night cream on your eyelids.
For more details, watch this informative video by Tina Yong on how to apply a concealer, brighten eye area and stop creasing:
Best peach toned concealers 2017
Clarins Instant Light Brush. The agent has an instant effect: the skin becomes luminous and acquires a natural healthy appearance. The amount of fine wrinkles is noticeably reduced. It is applied by a convenient brush;
Max Factor Mastertouch has a form of a pencil. The remedy perfectly hides darkening under the eyes and pigmented spots. The series is represented by many shades, and a peach color is my favorite. I also apply powder with a flickering effect t finish my makeup;
Lancome Teint Miracle. This is an innovative drugstore peach toned concealer. Fluorescent particles in the composition give your eye area a natural shine. The texture is not oily, which allows the product to be absorbed quickly. Due to the SP-filter, the agent protects the skin from ultraviolet radiation;
MAC Studio Finish SPF35. The series is presented in 14 different shades, including peach one. The products of this brand are water resistant and last all day long, even in rainy and snowy weather. Due to unique components, it does not dry the skin and does not irritate it;
L'Oréal Lumi Magique has also features of a highlighter (a brightening effect). An active ingredient – Fluid Andersen – allows not only to hide dark areas under the eyes, but also to smooth the tone, making it radiant. The product has a convenient brush for comfortable application;
Maybelline Affinitone. This is a very good drugstore concealer – my favorite! It consists exclusively of natural ingredients, which protect your face from irritations and allergic reactions. It not only masks dark areas, but also allows you to hide small wrinkles. A special small brush helps to apply the agent evenly. In addition, the packaging is quite compact, which allows you to keep it at hand. The series has three shades;
Shiseido Natural Finish Cream. It is considered one of the best products of this category. The agent perfectly hides small defects and bruises, smooths the color. The product has a light texture. The series is represented in five shades. In some cases, it may slightly dry the skin;
Catrice Allround. Inexpensive and high-quality product. It has a delicate, literally melting texture and consists of five colors: pink, green and three beige tones. The cream perfectly merges with the skin. But I do not use Catrice Allround in the hot weather, as it may "melt down".
I hope you will find my article useful and choose your best peach concealer! Take care of your eye area and shine every day! 🙂 Thank you all for your attention!