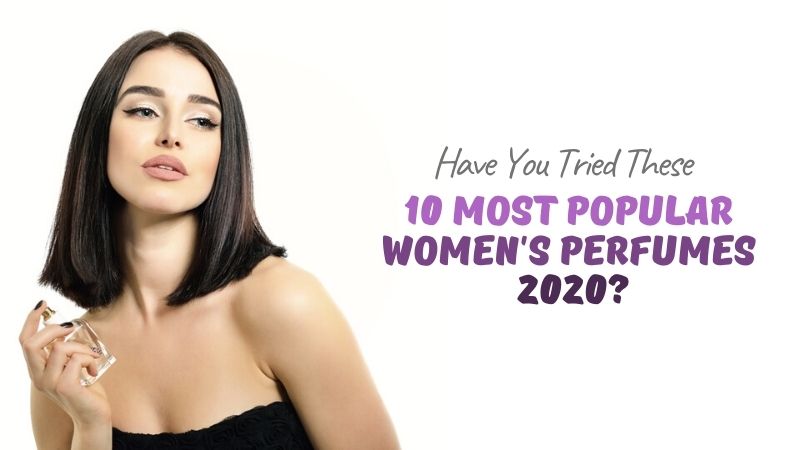 Have You Tried These 10 Most Popular Women's Perfumes 2020?
The modern woman is quite fussy when it comes to choosing the perfect fragrance. Therefore, perfume brands do not stop creating more and more new compositions that can satisfy the most diverse tastes of customers. Hundreds of amazing fragrances are released annually, and it is very difficult to choose the best one. But I tried to analyze the market of modern branded perfumery and maked up my personal chart of the best perfume in 2020.
If you don't want to read the full article then check out the most popular perfumes 2020 in the table below.
Clinique Happy .14 oz Perfume Spray Miniature
Buy on Amazon
Have you ever wondered what happiness smells like? If not, then you have a unique chance to recognize this intoxicating scent, which is enclosed in the graceful tip of Clinique Happy perfume. It is absolutely universal, like the feeling of happiness itself because the human body is capable of producing endorphins, the hormones of happiness, at any age and in any life situations.
The female fragrance Clinique Happy is a kind of visiting card of the perfume line that originated on the American continent and absorbed all the wildness and originality of the New World. This is a delightful collection of pronounced floral fragrances, sparkling with freshness, sunny warmth, and a feeling of endless happiness.
This perfume was repeated tested by dermatologists for possible allergic reactions, which is confirmed by the relevant documents. Of course, there is never a lot of happiness and it cannot cause allergies. the Clinique brand is known for its exquisite aromatic shades of fresh greens and the sweetest fruits.
Pacifica French Lilac Spray Perfume
Buy on Amazon
This is a gentle, feminine, soft and sweet perfume designed for romantic and lovely ladies. It is distinguished by traditional French style and enchanting, velvety character, imagining spring due to the combination of lilac, heliotrope, magnolia leaves, ylang-ylang, hyacinth, subtle notes of nectarine.
The authors of the composition note that each time you are surprised by feeling the smell of blooming lilacs, as every year you forget how amazing it smells because the fleeting bloom, which symbolizes the first moments of love, purity and innocence, very soon remains just a memory. Meanwhile, the perfumers managed to deftly capture and place the scent of a wonderful flower in a bottle called French Lilac. French Lilac bewitches its owner with natural sound and naturalness, conveying the scent of lilac – the best breath of femininity and purity. Perfume is appropriate in any situation, suitable for both the office and a romantic date.
Vera Wang Princess By Vera Wang For Women. Eau De Toilette Spray 1.7 Fl Oz
Buy on Amazon
The feminine fragrance Vera Wang Princess will surprise connoisseurs of exquisite perfumes with its delicate sound, reminiscent of the touch of a weightless wedding veil. This luxurious scent from a renowned wedding dress designer will make every lady feel like a beautiful princess awaiting a prince.
The floral-fruity melody of Vera Wang Princess perfectly reflects the tenderness, fragility and cheerfulness of a modern woman.
Energetic accords of apple, mandarin and apricot in the first notes of the perfume are intertwined with delicate passages of a water lily, symbolizing the lady's sensuality. The central overflows of the aroma conquer with the languor of dark chocolate and the passion of tuberose, and this amazing symphony is completed by the consonance of velvet amber and sweet vanilla, enveloping musk and noble woody accords. The harmonious combination of perfectly selected ingredients allows this perfume to be universal addition to any outfit and add notes of tenderness and sensuality to each image.
Lovely Sarah Jessica Parker By Sarah Jessica Parker For Women. Eau De Parfum Spray 1.7 oz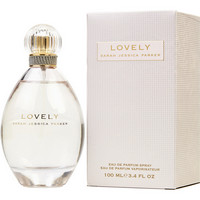 Buy on Amazon
The debut Lovely fragrance from the unsurpassed actress Sarah Jessica Parker gives a special coolness after a warm rain and a breath of a pleasant summer breeze. The owner of a captivating scent resembles an unearthly goddess who has just emerged from the Garden of Eden, fragrant with rare flowers and juicy fruits.
Mandarin, bergamot, lavender, apple and rosewood combine harmoniously with the noble molecules of patchouli and orchid to create a heartfelt symphony of feelings. Cedar and musk form a magical trail that completely envelops the mind.
Sarah Jessica Parker Lovely Eau de Parfum is elegant and modern. Intoxicating perfume is able to fill the entire space and give others a piece of paradise. An innocent, sincere and perfect woman who has chosen a luxurious scent enchants and conquers with her spontaneity and versatility.
Sarah Jessica Parker's bright and fresh Lovely perfume contains a whole world in which pleasant sensations and eternal love reign.
Ed Hardy Eau De Parfum Spray, Perfume for Women 3.4oz
Buy on Amazon
To ensure that the energy of indefatigable rock and roll never leaves the hearts of its true fans, within the Ed Hardy Woman series, the talented creator Christian Audigier created a unique composition Ed Hardy Eau De Parfum Spray. This floral cocktail recreates the mystical appeal of popular dance that has resonated with millions of women around the world over the years.
The philosophy of this brand is inspired by the liveliness of natural grace and inner beauty that can only break out in dance. Indeed, sometimes many people seem to us of little interest and ordinary until their internal energy is manifested when performing any actions. Ed Hardy Eau De Parfum Spray has a similar concept of action. At first, its bouquet seems emphatically floral and delicate until fresh fruity elements come into effect, warmed up by berry sensuality.
The charm of the perfume is also reinforced by the fact that this delicate and attractive smell does not seem too sweet or pretentious. It is intended only to activate the natural beauty of a young woman.
And, of course, you cannot but notice the original design of Ed Hardy Eau De Parfum Spray. The talented creator decided to decorate the vessel for his brainchild with eternal companions of rock and roll with tattoos made in an emphatically feminine manner.
Katy Perry Meow Eau De Parfum Spray for Women, 3.3 Ounce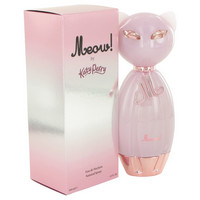 Buy on Amazon
Katy Perry is a stylish and flamboyant performer who attracts attention with her deep voice and bright songs. Recently, the young performer has created her own perfume brand that offers stylish fragrances to beauties. Katy Perry Meow is a flavored cocktail that is seductive, mesmerizing, sexy and sweet. The product received a luxurious aromatic bouquet from the specialists of the perfume brand Givaudan.
Katy Perry Meow's composition redefines the concept of spicy women's fragrances. The bouquet envelops the beauty with a light haze of sexual mystery, attractive energy and beauty. It was designed for beautiful women who are open to new impressions and acquaintances. The aroma is fraught with "cat" energy, and therefore a daring seductress lives in every woman. You should definitely try this mesmerizing, spicy and sexy perfume, which emphasizes your beauty, seductiveness, and inner charm.
White Diamonds By Elizabeth Taylor For Women, Eau De Toilette Spray, 1 Ounce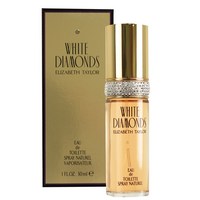 Buy on Amazon
White Diamonds perfume composition was made in 1991 by the Elizabeth Taylor trademark. The name of the perfumer who gave the world this extraordinary scent was Sophia Grojsman. The brand was created in honor of one of the brightest Hollywood stars of the 20th century, Elizabeth Taylor.
The aroma of the perfume composition amazes with its luxury and brilliance, it sparkles and plays like diamonds played on the skin of the famous beauty. The perfume, released more than 20 years ago, has successfully passed into the category of classics, having turned into a fragrance over which time has no power. The luxurious brilliance of white diamonds bewitches and beckons with its unattainable brilliance.
The elegant Elizabeth Taylor White Diamonds fragrance captivates with its sensual nuances and seductive accords. The perfume composition consists of a fairly large number of ingredients, selected in perfect proportions. The luxurious scent opens with aldehyde notes, juicy energetic orange, feminine lily, sensual neroli and aristocratic bergamot. Heart notes include Italian iris root, seductive carnation, cinnamon, Egyptian tuberose, bright summer jasmine, feminine Turkish rose, daffodil and ylang-ylang. The trail entwines in a close embrace the favorite scent of oriental harems – amber, sensual musk, notes of precious sandalwood and oakmoss.
The perfume of extraordinary strength is intended for the woman who is not afraid to be attractive always and everywhere, is not afraid to charm, seduce and cause admiration of the opposite sex. White Diamonds by Elizabeth Taylor is designed to highlight the diamond concept of the fragrance.
Aromatic Elixir Parfum Spray for Women by Clinique 3.4 Ounce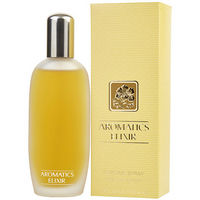 Buy on Amazon
The Clinique Aromatic Elixir fragrance for women most likely does not need a special presentation. After all, every woman wants to preserve her innermost individuality. And this fragrance carries that purity that serves as an elixir for the soul and body. Created in 1971, it was probably the first aromatic agent to have a therapeutic effect. Even the name itself – Elixir – reveals its healing essence.
The Clinique Aromatic Elixir is a whole symphony of aromatic sounds of nature – flowers, greenery, fruits, noble wood, spices, incense. Sunlight permeates not only the bottle that contains this fragrance. Each harmony rejoices in sunlight, open sky, light breeze, cool dew.
A woman should apply The Clinique Aromatic Elixir in a special way – to spray the fragrance into an air cloud and simply step into it, surrounding her body and soul with lightness, purity and harmony of nature itself. This fragrance can serve as an amazing addition for every woman.
Youth Dew by Estee Lauder for Women – 2.25 Ounce EDP Spray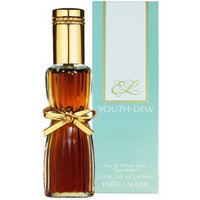 Buy on Amazon
The world of perfumery changed dramatically when Estee Lauder presented women with wonderful bath oil in 1952. The next stage, which caused a stormy delight among women, was the rich aroma of the classics Estee Lauder Youth Dew, presented a year later. Even the bottle, which has been unchanged for more than half a century, resembles a lady's figure in a pleated dress.
Estee Lauder Youth Dew perfume seems to evoke more aromas and customs of the 19th century. The initial notes take you to a rich estate breathing with the antiquity of the family, but bergamot and peach, as well as an orange with spices, will tell you about a sweet young lady who behaves like a real lady should.
A delicate rose with ylang-ylang, a gorgeous orchid and a noble carnation intertwine in a beautiful bouquet. Black currant leaves and jasmine are reminiscent of the classic tea ceremony. Lily of the valley excites the senses, and the smell of evening lavender will calm the impulse.
A trail of scent reveals sweet vanilla and rich musk, incense sticks with sandalwood and patchouli. Fragrant and rich notes of oakmoss and musk conceal the secret of sexuality but do not allow vulgarity. Such a perfume is also suitable for a modern young woman with a strong character and sufficient ambition, light and fresh, but by no means windy.
Jessica McClintock by Jessica McClintock for Women 1.7 oz Eau de Parfum Spray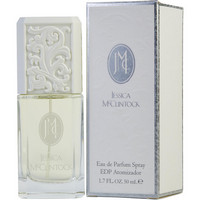 Buy on Amazon
Jessica McClintock presents the eponymous women's fragrance, created in 2005. It is a gorgeous floral perfume that has a feminine appeal and a strong personality. It will perfectly complement the image of an elegant, harmonious woman who loves everything beautiful and is self-confident.
Beautiful ladies will surely enjoy such a luxurious perfume as Jessica McClintock, which is perfect for an evening out or romantic dates. The composition is quite unique – it is suitable both for the office and for meetings in an informal setting. A beautiful and elegant scent will always remain in fashion!
The perfume composition of this magnificent aroma consists of notes of basil, ylang-ylang, bergamot, black currant, lemon, jasmine, lily of the valley, rose, musk, precious woods.
These so different but such attractive scents will excite the minds of perfume lovers in 2020. Stay tuned for new items and create trendy seductive looks!