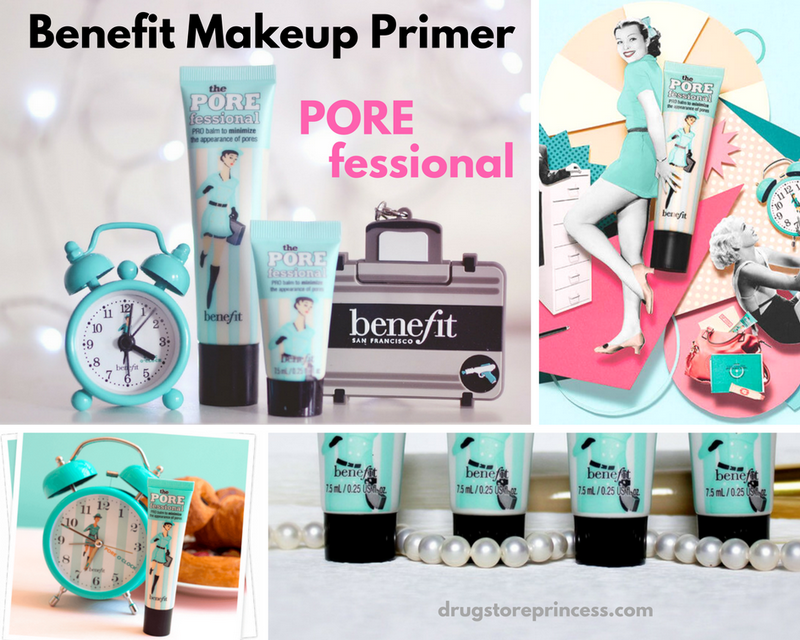 Best Benefit Cosmetics Porefessional Primer Dupes
Many of us are familiar with such hot-button issue as enlarged pores… Everyone treats this problem in different ways, I chose the option for myself, which is 100% effective. Meet – Benefit Makeup Primer «POREfessional».

It is a professional balm that will rid you of problematic skin. Its light and oil-free formula looks absolutely natural. Benefit Pore Professional ingredients are:
Cyclopentasiloxane;
Dimethicone;
Dimethicone / Vinyl Dimethicone Crosspolymer;
Isononyl Isononanoate;
Silica;
Dimethicone Crosspolymer;
Isododecane;
Phenoxyethanol;
Polymethyl Methacrylate;
Titanium Dioxide;
Cyclohexasiloxane;
Tocopheryl Acetate;
Fragrance (Parfum);
Mica;
Iron Oxides;
Trethoxycaprylylsilane;
BNT.
As you can see the main ingredient is silicone, but Benefit pore primer excellently does its job. My skin looks smother and all pores have disappeared. But here it should be said that the product doesn't  last long, it is necessary to renew make up during the day several times, if you want to look perfectly. It's a good thing that Porefessional primer can be used on the foundation.
I got a small tester tube of Benefit new Porefessional 3 ml. This volume is enough for a very long time, since you will need only one or two drops each time. Besides if you only want to see if the product is good for you, this volume will be perfect. Also Benefit pore eraser is supplied in larger volumes. In stores there are mini, standard and value sizes: Benefit Porefessional primer 7.5, 22, 44ml;
Is Benefit Porefessional good? This makeup primer does not rid you of problems with pores, it is a kind of photoshop temporarily masking pores, thereby temporarily reducing them! Reaction of skin can be different, I have read that it can cause redness. I try not to use such means too often, only in cases when my face should look perfect.
How to use Benefit Porefessional? Shake the bottle before opening. Get the built-in sponge and take off the cap. Press the button to apply one or two drops of pore Benefit Professional to the sponge. With tapping motion distribute the primer on problem areas or all over the face. Apply to clean skin or on top of makeup to visually reduce pores.
What does Benefit Porefessional do? The Porefessional face primer hides flaws without bridging the pores and clogging them. Light and stable formula instantly matures your skin, preventing appearance of oily sheen within 8 hours, and extract of mushrooms that it contains minimizes pores. The foundation is applied without problems over Benefit pore Professional. Skin really looks more even.
In general, I liked the product as a primer. After applying Benefit Porefessional makeup looks perfectly, but doesn't stay longer than usually. It does not dry the skin. Due to invisibility of the primer on the skin, it can be used to smooth skin without subsequent application of foundation. But of course the product is expensive, and this is its main disadvantage. Many readers ask if there are primer dupes that are no worse in quality and effect. And I can surely say – yes, there are. For you specially, I chose Benefit Porefessional Primer dupes, that will save you more than a half of the cost of this product, but will give the same effect:
Maybelline Baby Skin Instant Pore Eraser;
L'Oreal Studio Secrets Magic Perfecting Base;
ELF Blemish Control Primer;

NYX Pore Filler;

L'Oreal Magic Lumi Face Primer;

NYX Angel Veil;

Rimmel Stay Matte Primer.

The list of Benefit makeup dupes is composed from the best and cheapest to more expensive and not so effective, but still good. As you can see, Maybelline Baby Skin Instant Pore Eraser is the first in the list, and not without reason. This product is inexpensive and has the same qualities as Porefessional primer.
Maybelline Baby Skin vs Benefit Porefessional
I like the design of Maybelline Baby Skin Instant Pore Eraser – fresh, interesting, does not look something childish or ridiculous. Pretty cute. The tube has a narrow neck, thanks to which it is easy to control the amount of the product. The same as Benefit cosmetics pore Professional.
The primer itself is clear, dense, very silicone. On the face it is absolutely invisible, and after its application the skin is very smooth, velvety and perfectly even. Pores and some small imperfections are not seen.
Thanks to this primer, foundation is applied very easily, naturally, there are no clogs in pores. Makeup stays much longer. If you use it as independent product, it reveals a lot more advantages: skin becomes silky, Maybelline Baby Skin perfectly hides peeling skin and unevenness, it is not visible at all. In general, your face looks like a porcelain doll.
All these properties are completely the same as Benefit primer. The difference is in price. If you compare Baby Skin vs Porefessional in price, Maybelline undoubtedly wins. The product is almost 6 times cheaper, which makes it affordable to many people. Given that both primers give the same effect, it is easy to guess which one will you choose.