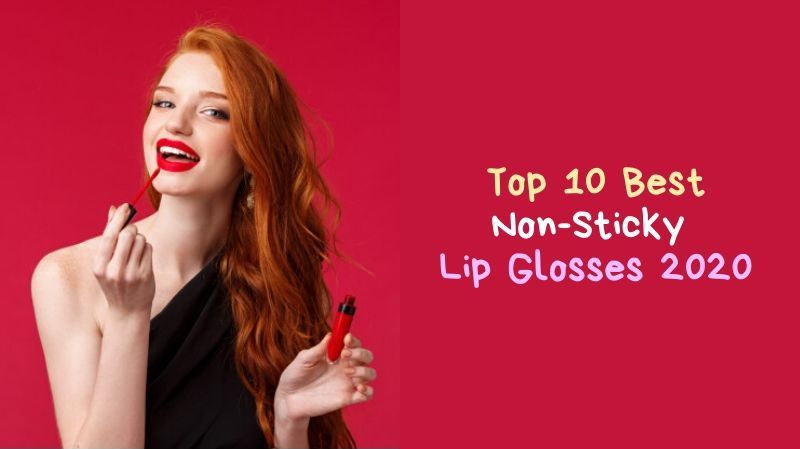 The 10 Best Non-Sticky Lip Glosses of 2020

Today, lip glosses are among the most popular and demanded makeup products thanks to the beautiful shine of a gloss that makes our lips more sensual. A variety of color palettes allows you to select shine from delicate, pastel shades to richly bright. Today we are going to talk about the top 10 best non-sticky lip glosses of 2020.
My Personal 10 Best Lip Glosses Chart 2020
Jane Iredale Just Kissed Lip and Cheek Stain
Jane Iredale Just Kissed Lip and Cheek Stain is a multifunctional product for both lips and face with a long-lasting effect. Each pink tone on the face or lips appears individually and acquires its own shade and depth.
The product is based on shea butter and special peptides that provide long-term hydration and stimulate collagen production. The delicate and pleasant formula of the shine-balm creates a cooling effect without a tingling and sticky feeling. The lip gloss has a pleasant scent of citrus, cinnamon and mint. Ginger and peppermint gently nourish the lips, stimulate blood circulation, and increase lip volume quickly and without pain. Shea butter, sunflower oil and aloe vera soften and moisturize. Lemon and tangerine oils exfoliate dead skin scales.
Stila Stay All Day Liquid Matte Lipstick
This liquid matte lipstick from the American brand Stila will win your heart! It is incredibly lightweight, almost weightless, so the unpleasant sensations of dryness and tightness are completely excluded. Despite the light consistency, you are provided with a rich shade that will emphasize the beauty and expressiveness of your lips. Matte velvet – even the most sophisticated beautician cannot resist such an effect. Convenient applicator shape, gentle formula, exquisite matte finish, delicate care due to nourishing components – all these are important reasons why you should buy Stila Stay All Day Liquid Matte Lipstick!
Julep It's Balm Full-Coverage Lip Cranyon
Julep It's Balm Full-Coverage Lip Cranyon is a lipstick with lip gloss and balm properties. In fact, it can be called an analogue of the clinic's chubby stick.
The line includes 17 shades: there are nude, berry tones, and classic red. By the way, on the site you can see photos of how this or that shade looks on the lips, which is very cool: this allows you to avoid buying a wrong product
Julep It's Balm Full-Coverage Lip Cranyon is incredibly comfortable to use and easy to apply. Already the first layer completely covers the lips' own pigment. Lipstick does not emphasize the imperfections of the lips. On the contrary, it slightly smoothes out small peeling, making them less noticeable.
Butter LONDON Plush Rush Lip Gloss, Late Night
Add volume to your lips with Butter LONDON Plush Rush Lip Gloss! The creamy texture with enhanced shine provides lips with a softening effect and incredible smoothness. The product is enriched with shea and avocado oils to nourish and moisturize delicate skin. The lip gloss has a palette of luxurious shades. The expected result is silky, firm and vibrant lips.
Colorescience Sunforgettable Lip Shine SPF 35
Colorescience Sunforgettable Lip Shine cares for your lips and emphasizes the natural beauty – what else is needed for your lips to give the world a charming smile?
Thanks to its rich composition, Sunforgettable SPF35 Lip Gloss also acts as a caring balm.
Palmitoyl oligopeptide actively restores the skin, increases its elasticity and makes the lips a little plumper. Vitamin E acts as a super-potent antioxidant to rejuvenate tissue and build up protection against free radicals that destroy cell DNA.
Peppermint essential oil has a tonic effect, improves blood circulation in the capillaries, and, consequently, nutrition and respiration of lip skin cells. Mineral pigments, sunscreen mineral filters and mica also have beneficial effects on the skin.
Titanium dioxide and zinc oxide are natural sunscreens widely used in mineral cosmetics. They protect the skin from a wide range of harmful UV radiation without irritating or damaging it.
TONYMOLY Petit Bunny Gloss Bar, 04 Juicy Cherry
Petit Bunny Gloss Bar is not only lipstick but also lip gloss and nourishing moisturizing balm. This true lip care product contains a strawberry extract that effectively moisturizes and nourishes the delicate skin of the lips. Lipstick-balm by Tony Moly has a pleasant strawberry aroma, gives lips plumpness, natural healthy shine.
The lip gloss has a bright stylish attractive miniature packaging. It can fit into any women's handbag, the line includes 9 different shades with different scents.
TONYMOLY Petit Bunny Gloss Bar not only gives lips a spectacular shine but also takes good care of them; the original stylish packaging in the form of a bunny with flirty ears will leave few women and girls indifferent. The balm returns the natural rich color to the lips, each of its shades is based on a berry or fruit extract, which gives each of them certain properties:
Strawberry – provides lips with the necessary amount of moisture, thereby preventing dehydration and chapping;
Grapes – has an antioxidant effect, regenerates the skin;
Apple – softens and smoothes the skin;
Cherry – improves lip skin elasticity;
Peach – increases resistance to external factors;
Orange – provides essential vitamins and moisture;
Neon Orange – has a light candy aroma, bright orange neon has a coral coating;
Neon Yellow – has a neon yellow tint, the applied lipstick-balm gradually acquires a rich pink color;
Neon Red – the stick has a cold scarlet hue and a slight glossy shine.
Jane Iredale PureGloss Lip Gloss-Snow Berry
The new PureGloss Lip Gloss has been redesigned. The updated packaging looks even more elegant and contains even more cosmetics. It is convenient to apply the product with an extended brush, easily contouring the lip line.
The gloss formula has also improved. Now the protective and nourishing properties of the ingredients last much longer. And additional pleasure will be delivered by the delicate aroma of berries.
The product will give the lips an attractive diamond glow, volume and juiciness. It does not create an unpleasant sticky feeling. The skin of the lips is protected from the adverse influences of the outside world due to a set of beneficial ingredients.
Nutrition and hydration are provided by oils of moringa, avocado, jojoba, sunflower seeds. Vitamins C and E, extracts of pomegranate, orange, blackberry protect lips from peeling and chapping.
Titanium dioxide acts as a sunscreen, and the colors are created from natural minerals.
ZOYA Lip Gloss, Flirt
This lip gloss is both therapeutic and decorative. The American manufacturer Zoya has combined benefits and aesthetic pleasure in one product. The cosmetic product is placed in a small transparent tube, which is convenient and easy to use.
The product has a pleasant plum shade, a magical, slightly sweet aroma and delicate taste.
This lip gloss does not contain parabens, has a natural base, and is suitable as the first cosmetics for girls because it has a gentle formula and belongs to hypoallergenic cosmetic products.
LORAC Alter Ego Lip Gloss, Ceo
Are you a conservative and strict lady who prefers classic style in clothes, laconic styling and simplicity in makeup? Well, it's time to show your alter ego with the innovative Alter Ego Lip Gloss of the same name from the American professional brand Lorac.
The product can be used alone, or it can be applied as a mirror finish to your favorite shade of lipstick. The only difficulty is to choose the color you like, as the palette of Alter Ego Lip Gloss is simply limitless. The soft, comfortable applicator evenly distributes the product over the mouth, and thanks to its creamy, moderately thick formula, it does not flow behind the contour and instantly fixes, preserving the original integrity for a long time. Finely dispersed shining particles visually add volume to the lips, making them plump and more sensual. The gloss is not sticky and is comfortable on the lips, it transforms even the most boring everyday look and attracts everyone's attention.
Mally Beauty High Shine Liquid Lipstick, Blossom Shade
Mally Beauty High Shine Liquid Lipstick is surely the lip gloss that is not sticky. It envelops the lips and is comfortable to wear all the time. The noble gloss attracts the glances of passers-by. It comes off the lips gradually, leaving a light tint. The palette includes 12 juicy shades from nude to wine, which are suitable for every day and for a special occasion.
The glossy wet effect makes lips look plump. It can be used as an independent tool and also pairs well with lipstick. It has practical packaging with a brush applicator.