Choosing the Best Nude Lipsticks & Tip 6 Nude Makeup Tips
Many professional makeup artists claim that natural make-up is a real art.
There are many women who would like to emphasize their beauty with a smart make-up, but at the same time look natural. But we must admit that not all girls get it. In this case, to achieve the desired effect you may use the technique "Nude", in particular nude lipsticks.
What is a nude lipstick?
The word "nude" means "corporeal" or "naked". These are means with light, soft, pale cream shades. The technique involves applying makeup, which hides all skin flaws and emphasizes its advantages. This make-up allows a woman to look luxurious with a minimum of makeup.
An important component of nude make-up is a lipstick. Many women call such products "beige" due to their natural shades. This product is able not only to paint your lips well, but also to give them volume. And besides, lipsticks of light colors give the skin tanned appearance, while bright, on the contrary, make it paler.
Top 4 nude lipsticks 2017
A good lipstick should have a high density, evenly distribute on the lips, nourish them and fit the natural color of a woman's lips. I've made up the review of the best nude lipsticks 2017 that meet these requirements.
Maybelline Color Sensational 802 Pearly Pearl
The composition of this product includes vitamin E and honey nectar, which create an invisible barrier, protect the lips from the negative effects of the environment, intensively moisturize them and help avoid an unpleasant feeling of tightness.
And small pearly particles create a gentle flicker on the lips. The line includes coral beige and nude pink lipstick, each of which can become part of natural make-up.
Dior Rouge Nude (shade "Rouge Dior Nude")
New lipstick by Dior «Rouge Dior Nude» has an innovative formula of a nude liquid lipstick. Gently caring for the lips, it gives them a transparent natural shade, as well as an unprecedented smoothness.
The line includes ten shades, seven of which can be unequivocally called juvenile, that is, "beige", tender, and the rest have a more saturated color. However, when applying light shades in several layers, you can get a more intense color. The resistance of the lipstick "Rouge Dior Nude" is about 2-3 hours, and this product practically does not have a smell.

L`Oreal Color Riche Caresse
L`Oreal lipstick "Color Riche Caresse", according to the manufacturer, is able to envelop the lips with a delicate veil of light colors.
Light, almost weightless texture is almost not felt on the lips, but at the same time gives them a flicker and a beautiful color. In total, the line includes 16 fashionable shades that will make the lips more sensual.
The advantages of this product are the following: uniform distribution on the lips, hiding imperfections, excellent moisturizing and flawless color. Persistence of this product is also good: it keeps on the lips all day long, without losing its original charm.
MAC (shade "Blankety")
The manufacturer of MAC cosmetics always offers a wide choice of natural color lipsticks. A shade "Blankety" is the most popular in the line of "MAC Amplified Creme".
Pink nude with a soft creamy texture can be applied in a single layer, so as not to overlap the natural color of the lips or in several layers to completely surrender to the color of the MAC. Blankety well hides lip defects, such as peeling or cracks. This nude lipstick keeps on the lips for 4-5 hours, has a pleasant vanilla scent and fits almost any tone of the skin.
How to Choose Nude Lipstick?
Determine your skin undertone – your skin undertone will help you determine which shade of lipstick will suit you. It's quite simple to define it: if you have blue veins on a wrist – you have a cold undertone, if you have green veins – you have a warm undertone. If you can't answer this question definitely, then you have a neutral skin undertone;
Take the natural color of the lips into account – The correct shade of nude is the one that matches your natural lip color. If you choose a shade lighter than your lips, it will give you a painful look. If you choose a shade that is too different from your natural lip color, it will no longer be considered an ordinary one;
Choose the right texture of the product – A nude matte lipstick will completely overlap your lip pigment: this will look like you have a concealer on your lips. Look for a creamy texture and a clean shade. It can also be opaque and have a light shine;
Make the right lip make-up – Nude shades emphasize all skin flaws including peeling and dry lips. Therefore, before applying make-up, peel them off with a lip scrub. Also do not forget about nude lipstick liner: draw a lip contour and inner corners, and apply lipstick from the middle of the lips. Use a highlighter on the tick above the lip to give the lips volume and highlight them against the background of the skin. And to make the face healthy and rested, apply a blush of a natural shade.
Choosing the right nude lipstick shades for your skin tone
Very light skin – If you have very light skin, choose a lipstick of pink and beige translucent shades: they will brighten your complexion and not make you too pale. If you have a warm undertone, I recommend MAC Freckletone, cold undertone – Maybelline Color Whisper Petal Rebel, and neutral – Rimmel Kate Moss 40;
Light skin – I have a light skin, you should choose warm shades. You can choose between pink and beige shades. Unlike girls with very light skin, your lipstick color can be more pigmented. If you have a light skin with a warm undertone, I recommend MAC Peachstock, cold undertone – Tom Ford Pink Dusk, neutral -Wet Wild Megalast Lipstick Bare it All;
Beige skin – Women with beige skin should choose nude shades with a peach or pink undertone, which are slightly lighter or darker than the natural complexion. The shades that match your skin color and too brown shades will not look harmonious. If you have a cold undertone, I recommend you trying MAC Kinda Sexy, cold undertone – Bobbi Brown lip color brownie pink, neutral undertone – Lancôme Rouge in Love Jolis Matins;
Olive skin – If you have olive skin color, choose a nude lip color that will be slightly darker than your skin. You can choose pink, beige or peach shades. Coral will also look good on your skin. Women with a warm undertone should choose caramel, with a cold undertone – dusty pink shades. Avoid shades that are lighter than your complexion. Women with olive skin of a cold undertone should take a closer look at MAC Cosmetics Lipstick Faux, warm undertone – Lancôme Color Design Natural Beauty, neutral undertone – Dior Addict Lipstick Tulle 214;
Dark skin – Women with darker skin should chosee darker lipsticks with a brown tone and a dark red pigment.
The best nude lipsticks for different hair colors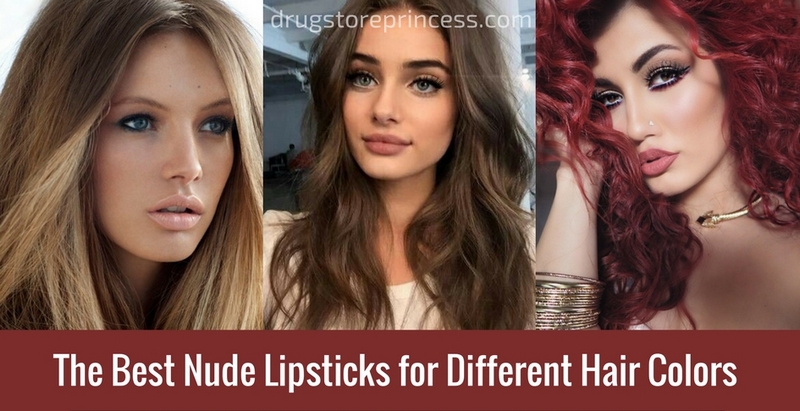 Blonde girls in daytime make-up are better to use gentle shades. This applies to "nude". Blondes with brown, blue and gray eyes are suitable beige, light pink, peach shades, as well as carmine-colored lipstick. Coral lipstick and honey beige are also an excellent choice. All these shades favorably emphasize the natural color of the lips, and thanks to the transparent and light texture, their overall appearance can be improved;
Brunettes and brown-haired ladies should choose bright and rich shades of lipsticks. But if we are talking about nude cosmetic products, then brunettes and brown-haired women should choose terracotta, pale-red or light-brick shades. By the way, you should not choose a sparkling nude color lip gloss, because the excess shine in this case will not look appropriate.
I also recommend you watching this ultimate guide to nude lips by Lisa Eldridge. The girl will speak about her favourite nude lipstick set. Enjoy!
6 Tips on How to Wear Nude Lipsticks
"Naked" shades emphasize all skin imperfections, especially peeling and dryness. To avoid this, you should use lip scrubs. After removing excess, make the lips smoothy with a primer. Especially if you have or are already having transverse wrinkles.
Nude colors may be darker than the color of the lips, but no more than two tones.
When buying a lipstick, buy a liner as well. A clear contour is needed for the "naked" mouth as much as for the bright one.
Refuse "the matt finish". It will make average lips look more thin and flat than in reality. On the contrary, you'd better add a drop of shine at the end, and select the "bow of the Cupid" with a highlighter. This will add volume to the lips.
To give your face a healthy, blooming look, apply a peach blush or bronzing powder on your cheekbones.
Focus on the eyes or eyebrows to balance the lower part of the face. Choose frosty-colored aises of natural shades and classic black eye lines.