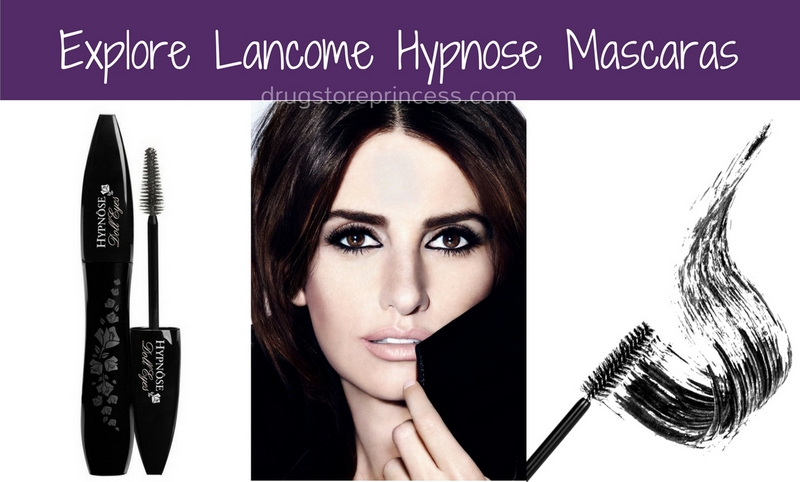 Explore Lancome Hypnose Mascaras: Types and Tips for Using
Greetings, dear readers! 🙂
Today I would like to write a review of Lancome Hypnose mascara. I have purchased it recently but can already share my personal experience! I had to choose between this product and Diorshow, but still decided to buy this one!
Lancome Hypnose Mascara: Product Review
Coating capacity
With Classic Hypnose Lancome I managed to get black eyelashes with the first application. I decided to evaluate the covering ability of the eye makeup tool. The product paints the blond eyelashes very well.
Tube and brush
Lovers of stylish cosmetics will definitely like the tube of this product: it is beautiful black, very smooth and comfortable in the hand. You may be surprised by the unusual shape of the brush, it's bended in the middle, and the bristles grow in different directions.
I measured how much product removes the brush each time – approx. 0.2-0.3 g, this is the optimal average for mascara that increases volume. You can immediately notice that it captures thick product unevenly, with excesses and lumps. This is not very convenient – the lumps, getting on the cilia, give an inaccurate eye look.
In addition, because of the wide neck, the end of the brush contains a lot of extra product. This is another unpleasant disadvantage, as most women get rid of excess product by wiping the brush on the neck of the case, and this leads to the appearance of an even larger lumps. I remember the same unpleasant feature in Divage Ultra Curly 90 × 60 × 90 and Clinique High Impact Extreme Volume.
Yes, a soft brush adds volume and lengthening. However, it's difficult to apply the mascara to thick and dense eyelashes due to the small length of the bristles.
However, I'd like to note that the tube locks with the click which guarantees the tightness and protects the product from premature drying.
Application results
Lancome Hypnose mascara gives your eyelashes a normal extension and good volume. The volumetric and lengthening result can be seen immediately on different types of eyelashes. This version would be one of the best, if it did not leave lumps. I had many lumps on my eyelashes! This gives them a sloppy, untidy look.
I also tested this product on my friends who have different types of eyelashes:
short and medium tough,
rare and soft,
long and tough.
Short and medium tough eyelash
The short thick lashes are well elongated and look bulky, the deep black color looks good. The overall impression was spoiled by the indecent number of lumps and confused cilia, the brush could not comb them.
Rare and soft eyelashes
This photo clearly shows how good the tool paints rare eyelashes. The lumps give them a very sloppy look. The result could be very good – the mascara extends well and gives volume.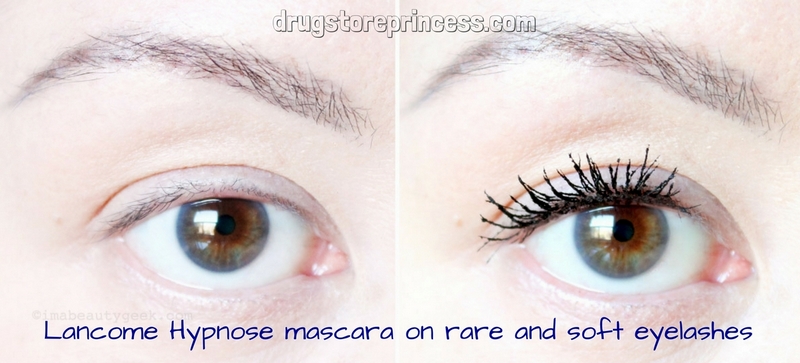 Long and tough eyelashes
Thick hard eyelashes, at first glance, look very good – there is both volume and elongation, and deep black color favorably emphasizes their dignity. However, if you look closely, you can see here inaccurate lumps.
Resistance
Most types of this Lancome series are not water resistant, but still can withstand a slight impact of moisture. My experiments showed that tears and rain can cause sloppy spots under the eyebrows or lower eyelashes. Water-proof versions are also available for sale, which is a real advantage.
In addition, I noticed that this Lancome product crumbles during the day. Unnoticed at the beginning of the day, two or three black grains can turn into a real "flake" on the face by the evening. Of course, the black dust under your eyes will not brighten your image, but instead emphasize unnoticeable wrinkles and add an extra ten years, so you need to have a mirror and patience since you will need to check the make-up throughout the day.
7 Types of Lancome Hypnose Mascara
In addition to classical "Hypnose", the series has 8 more variations.
"Hypnose Doll Eyes" to create the effect of "puppet" eyelashes. The formula includes fibers of natural silk and D-panthenol, thanks to which the coating is homogeneous, with glossy shine. Doll Eyes is equipped with a cone-shaped brush, which can easily paint even short thin hairs in the corners of the eyes. Available in normal and water-proof versions;
"Hypnose Drama". A magic wand for those who do not have time to thoroughly painting. A wide undulating brush repeats the shape of the eyelid. You will need to make one precise stroke to cover your eyelashes with Hypnose Drama mascara. The texture of the product is creamy, not sticky, quickly dries when exposed to air. Hypnose Drama is perfect for "smoky" makeup;
"Lancome Hypnose Star mascara". The brush of the previous version is thick and wide, but the brush of Hypnose Star is narrow and with rare bristles. This is a real rescue for rare eyelashes, which can't be painted with a broad brush. On one side the setae are convex, on the other – cut in one plane, which makes it possible to twist the cilia during the make-up process. This mascara Hypnose was one of the first to appear on the international market;
"Precious Cells". A novelty in the series of decorative Lancome cosmetics for the eyes. Besides, this mascara with a curative effect. The formula with arginine and plant extracts extends the life cycle of hairs, preventing their premature falling out and fragility of the tips. Precious Cells reviews confirm that many women ceased to lose eyelashes when removing makeup. A brush with villi of different lengths can paint even "bald" cilia so that their volume will amaze everyone;
"Hypnose Lancome Waterproof Mascara". A water-resistant variation of the classic Lancome eye makeup product. The formula contains provitamin B5 for strengthening cilia and skin care for the eyelids. In my opinion, this is one of the best Lancome mascaras;
"Extra Black". The first mascara with a "sensor" brush for flawless and smooth application. Villi are covered with a special composition that prevents lumps and cilia. The formula combines solid and plastic particles of carnauba wax, which is why the product is consumed economically;
"Volume à Porter" is a Lancome new mascara. It contains persistent pigments for a saturated carbon shade of hairs. The concentration of wax in the composition is minimal, which allows achieving superelastic coating. I love to curl my eyelashes after applying this volume mascara, it does not crumble in the process.
The color scheme of this series does not have a great variety. Star, Precious Cells and Extra Black are available only in black. Doll Eyes, Lancome Drama mascara and classic version can also be found in brown. The design of all tubes is stylish and concise.
Verdict to Lancome Hypnose Mascara – To Buy or Not To Buy?
Let's summarize the advantages of this product:
Excellent elongation, volume and twisting effect;
Does not form lumps on the cilia and does not crumble during the day;
Easy to remove;
Contains a complex of vitamins and nutrients;
Carefully fixes the bend of the cilia;
Beautiful case;
Comfortable brush;
Eyelashes look great in the photo.
The main drawback of Hypnose is a very high price – about $28 (but you know that Lancome is elite cosmetics) And I do not recommed buying the classic version, since it leaves many lupms. But you should definitely try Lancome Hypnose Drama mascara!
Lancome decorative cosmetics in contrast to many other brands of luxury cosmetics, significantly enlarged its assortment in recent years and continue to hold a high standard of quality. I have a favourite product of this series. When you try this product, it will be difficult for you to refuse it in favor of a cheaper analogue. I hope that this brand will soon please us with a couple of new products !!!