Palettes – Upcoming Fall Trends
With the new season coming, beauty brands such as Nyx, MAC, ColourPop, Urban Decay, Anastasia Beverly Hills, etc have released amazing eye shadow pallets. They offer more innovative colors and textures than ever before. Looking for trendy metallic shades or velvety pigments? What about a subtle glitter shimmer? Consider these new palettes is your perfect supply to experiment with your fall looks and not only fall.
Urban Decay Naked Honey Eyeshadow Palette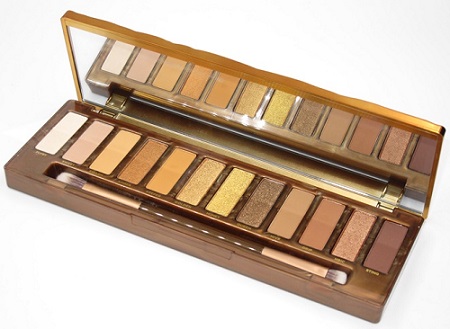 Buy on Amazon
It's been six long months since we last met a new member of the Urban Decay Naked palette family. This fall will present a special palette called Naked Honey. It contains 12 cool pigments in tan tones in matte, shimmery and shiny elements.
Nyx Mystic Petals Shadow Palettes
Look at these stunning fall shadows from Nyx! There are both matte and shimmery pigments. The shades may seem quite summer to you, but what prevents you from transferring bright colors to the new season? Moreover, these colors are perfect for fall makeup.
If you are in a "smoky" mood, choose sultry browns and graphite colors, and if you are going to a party, opt for lavender, blueberry, raspberry, plum or turquoise tones.
Anastasia Beverly Hills Norvina Vol. 1 Palette
Anastasia Beverly Hills' sensational 25-color eyeshadow palette combines a bunch of bold pigments and numerous neutrals, so you can easily experiment with your makeup for fall, or resort to your habitual style depending on your mood. Our favorite, in this series, is Matte E4, a neon coral orange shade that looks amazing on any skin tone.
Natasha Denona Metropolis Palette
The equally epic Natasha Denona eyeshadow palette is not just a cool limited edition, each of which seems to be created for autumn, but also a festive edition in honor of the brand's 5th anniversary. 28 amazing brown tones along with vibrant greens, yellows, pinks and blues have beautiful velvety matte and sparkling metallic textures. Beauty experiments with this eye pallet are endless.
Dominique Cosmetics Celestial Thunder eyeshadow palette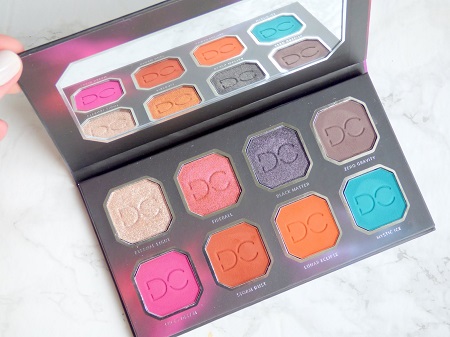 It seems that the new Dominique Cosmetics Celestial Thunder eyeshadow palette, inspired by the celestial theme. It is all we need this fall. The new compact format combines eight glitter metallics and vibrant matte shades that can only be seen in space. Each pigment is named after a space event. The favorites in this set are Lunar Eclipse Terracotta Orange, Lucid Dream Crimson and Electric Amethyst Plum.
Pat McGrath Labs Mothership VI: Midnight Sun Palette
At the Maison Margiela and Valentino fall 2019 fashion shows, the eyes of the models wear the shades of the new Pat McGrath Labs Mothership VI: Midnight Sun Palette. We now know the secret to their success: a 10-color set in seven different formulas, including chrome, silk matte, shine, creamy shimmer, pearlescent pigments, and light diffusing glitter (Wicked Envy green).
Tarte Fall Feels Eye & Cheek Palette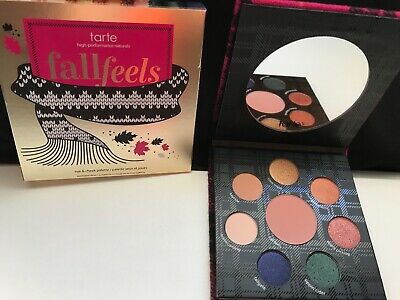 The Tarte Fall Feels Eye & Cheek palette is the epitome of coziness that is lacking in the cooler months. Not only is the palette wrapped in a soft, hot pink case, but it also includes the fall's eyeshadows like Apple Picking (metallic burgundy), Pumpkin Patch (shimmery copper) and Hayride (taupe). They all surround a full-length long-wearing Amazonian Clay 12-Hour Blush in a dusty pink shade that shares the name with the entire palette: Fall Feels.
Too Faced Palm Springs Dreams Eyeshadow Palette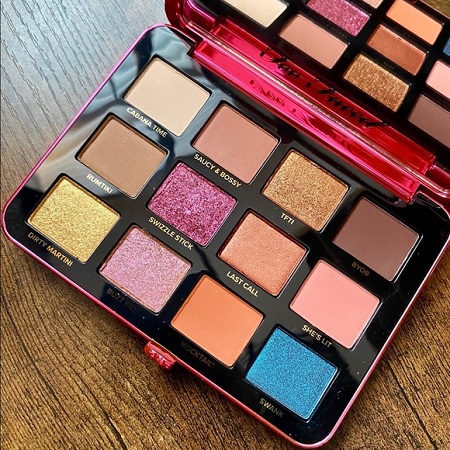 Another gorgeous palette worth checking out this fall is Too Faced Palm Springs Dreams. Our favorites Rumtiki (matte caramel brown) and Dirty Martini (metallic gold) are great choices for your cocktail party!
Chantecaille Luminescent Eye Shades
It's hard to say what captivates more: the sheer pearlescent shimmer of these gel-based eyeshadows, or the fact that their sales are helping to support wildlife conservation organizations in Africa. Each shade is named after the endangered animal ─ Lion, Elephant, Pangolin, Cheetah, Giraffe and Rhinoceros not only because they inspired the creators of these colors, but also as an allusion to the specific species that will benefit from purchasing the product.