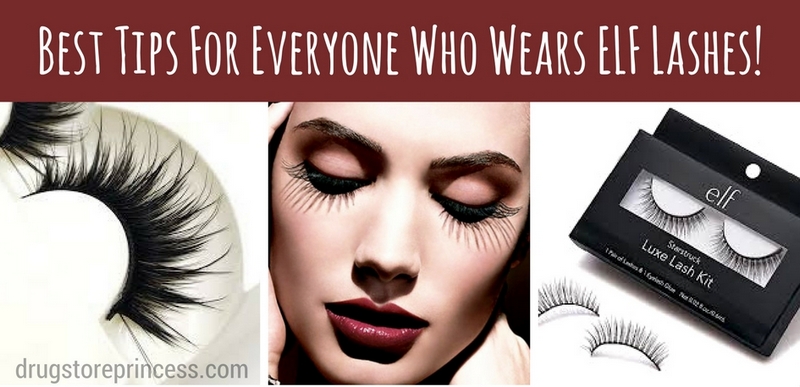 Best Tips For Everyone Who Wears ELF Lashes!
If you can not boast of long and fluffy natural eyelashes, this is not a reason for sadness and despair! After all, today there is a huge range of cosmetic products produced by the famous brands! ELF lashes is an excellent solution for giving extraordinary magnetism to your eyes!
ELF eyelashes look very natural, and you can glue them by yourself. For this purpose I recommend you using a special glue from the same manufacturer. Long, lush, beautifully curved eyelashes will become the object of your pride and envy of other women. You definitely will not remain unnoticed!
How to apply ELF fake eyelashes?
To begin with, you should degrease the eyelids. To do this, wipe the eyes with a liquid to remove makeup;
ELF lashes can prove too wide for your eyes, so you must first try them on. Take them with tweezers and attach them as close as possible to your own eye hairs. Cut them if they are wide for you or if they are much longer;
Squeeze a small strip of glue onto the palm and stretch a strip of eyelashes over it. Wait a few seconds until the glue thickens;
Take false lashes with tweezers in the middle, attach closer to your own eye hairs. Start pressing false eyelashes from the outer corner of the eye to the inside, holding the tips with your fingers. Swipe the bottom of the toothpick to fix it better;
Draw the upper eyelid with a liner or black contour pencil, slightly going beyond the boundaries of the mobile eyelid. This technique will help to hide minor flaws (glue residues);
Apply the mascara, it will straighten the fake eye hairs. In the process, carefully hold them.
How to remove ELF lashes?
Do not pull them out in any case! You can pull them out with your own lashes or damage their structure. Wet cotton pads with warm water and put on your eyelids for 2-3 minutes;
Now put on the cotton swab means to remove make-up (I use a lotion with oils in the composition, it will perfectly soften the glue). Draw a stick along the main line. After the glue becomes soft, take eyelashes by the tip at the outer edge and pull. Unfasten them slowly and gently;
Once again wipe the eyelid with a make-up remover, and apply a soothing cream.
How to wear ELF lashes?

To wear ELF product as long as possible, you must follow a few simple rules:
Protect them from mechanical damage. In other words, you can not rub eyes or sleep with your face buried in the pillow;
Avoid cosmetic products containing oils. The only permissible means is make-up remover, but it should not contain oil or fatty textures;
Fixing false eyelashes, you should use high-quality materials. This not only prolongs the life of the the cosmetic product, but also helps to avoid allergic reactions or irritation.
However, despite all the precautions, false eyelashes will sooner or later become unstuck, so I recommend you removing them in advance so as not to be in an awkward situation. You can check how strong the fixation is in the following way: you can use a toothpick: just gently touch the base of the glued lashes and slightly move.
Make-up with ELF natural false eyelashes
The makeup of those ladies who use ELF natural eyelashes is slightly different from the usual. Let's consider two variants of make-up:
Everyday make-up is almost the same as usual. There is only one small secret. If you want to look more natural, you can use a regular tablespoon. It should be applied to the eyelid with a convex side to slightly raise the row of cilia, and then put on mascara. Instead of a spoon, you can use any small round object;
Festive make-up requires a little more effort. In any case, you need to correct the line of eyelash growth. For this, you can use a pencil or liquid liner. Do not abuse mascara: ELF lashes will look very impressive any way, additional volume or length will emphasize their unnatural look. But do not neglect eye shadows! They will complete the image and distract attention from the false eyelashes.
Best tips for ELF lashes wearing: what can prolong their life?
The brush for eyelashes can be useful to maintain the neat appearance of your cilia. With its help you can eliminate gluing. Of course, you need to use it carefully, without touching the line of eyelash growth;
You can use special tools that are able to protect the glue from the negative impact of the environment;
There are also special nutritional tonics that help to strengthen and maintain the health of natural eyelashes. They have a thin brush, so you can apply them along the line of eyelash growth. You can read about these tools on the Internet.
If you follow all the simple recommendations for this ELF product, your cilia will remain beautiful within 3-4 weeks, depending on the individual features and the quality of the performed procedure (master's skills and material quality). On average, after three weeks you will either need to undergo a correction procedure, or remove ELF fake eyelashes. If you hesitate, whether to buy them or not – look at some photos, and get rid of all doubts!