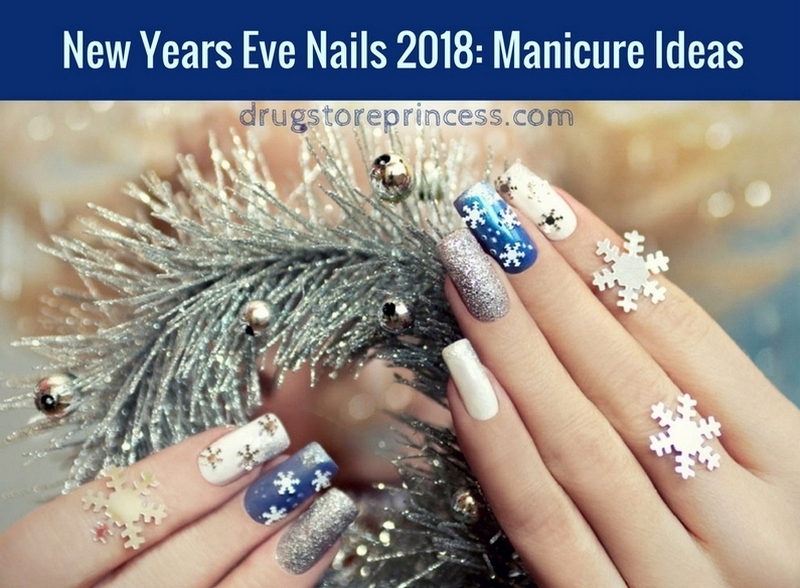 New Years Eve Nails 2018: Manicure Ideas
New Year's holidays are very close and it's time to decide how to meet the New Year 2018. If you have already chosen the place of celebration, it's high time to select a dress, hairstyle, make-up and of course, New Year's nails 2018.
In this article, you will find numerous beauty ideas and photos of the most beautiful and bright manicure ideas for the New Year 2018. Looking through the actual variants of manicure presented in my photo collection, you can easily decide on the desired design of eve nails.
New Years nail art can depend on the color of the dress, you can make a bright party nail designs with a pattern of New Year's themes, or choose a neutral color, acceptable for a festive party and every day. It's not difficult to choose nye nails, you just have to decide on the style, and my photos of new nail designs will help you do this!
Gorgeous New Years Eve Nails 2018 – Colored Confetti, Glitter and Gold
If you are going to have a beautiful evening party, you need a chic nail design. I can offer some ideas for you:
Sparkling confetti. Original design with bright multi-colored confetti is one of the best New Years nail ideas in my opinion!
Beads. A very elegant and cool nail design with micro beads that will cover the entire nail. For this manicure, you need to single out one nail and glue beautiful beads;
Shine. Sparkly nail designs will always be a fashionable nail design idea. Manicure ideas with brilliance can be different. You can design of all the fingers or some of them;
Rhinestones. Other cool easy nail designs are created with the help of rhinestones. Crystals, pebbles, seed beads will complement the elegant monochrome New Years nails, making them more beautiful;
Gold. In the Year of the Yellow Dog, gold manicure will be suitable in any form. You can cover the whole plate with a golden polish or just add gold strips. I recommend you black and gold glitter nails! I just love it!
The presented photos of New Years eve nails will create a perfect celebratory image and will help to emphasize refined taste:
New Years Nail Designs 2018 – Create A Bright Pattern
Before you begin to select a manicure variant, do not forget 3 important rules:
Your manicure should fit to an evening dress (which does not necessarily have to be the same color);
Drawings and intricate patterns look good only on long nails. For short nails, choose a longitudinal pattern, or French manicure;
Do not forget about experiments! Stores offer a huge amount of nail polishes, imitating different surfaces – jeans, sequins, glitters and even pile or fabric. Ask the store's consultant about new nail art variants. They will make your manicure even more elegant! "Delicious" and confetti nails will suit young girls. Red classic color can be combined with many outfits! See more popular nail designs: Christmas trees, snow-flakes, sweets!
Beautiful New Years Eve nails – this is not only a one-color winter design, glitter and rhinestones. Vivid drawings will become an excellent addition to the design. What can you paint on the nails in 2018? Find the answer below.
Beautiful winter manicure with Christmas drawings. The perfect manicure will include drawings associated with the main winter even. New Year trees, Santa Claus, mandarins, gifts, Christmas toys – everything you wish. Also do not forget about the symbol of the coming year – Yellow Dog, which can also be used for drawing in New Year designs 2018;
Delicate sparkly nail ideas with snowflakes. Beautiful, neat snowflakes look great on nails of different length and shape. You can make a manicure with snowflakes, using a dark base, decorate a French manicure with snowflakes, use snowflakes as the main or additional decor;
Monogrammed drawings and patterns. Remember those beautiful frosty pictures on the windows? In a similar style, you can create cute New Years nails. Delicate white monograms and lacy patterns on a black or dark blue varnish look very beautiful. Such manicure perfectly complements any evening outfit. Simple and gorgeous!
French manicure is the most universal version. Just add some more glitter to the traditional look. Try a bright two-colored manicure, decorate it with rhinestones. Beautiful patterns on one or two nails will not spoil your image;
Best trend 2018: a fashionable "knitted and velvety" manicure! This winter trend is interesting and suitable for a festive event. A beautiful knitted effect in matte white, pink and blue is my favorite! I love fashionable knitted texture and original ornaments. You can make with a stamp, stickers and draw with a brush. Best best nail designs 2018 have a velvet effect and flowers;
The coming fest will not do without snowmen, deer, Santa Claus and other living creatures. Cute animals and characters will create in your image a nice playful note. But, it is worth noting that such a pattern does not fit to strict evening dresses and high heels;
Green and red Christmas trees is the main New Years colors. The symbol of the coming holiday will look perfectly!
But in general, why choose one variant of New Years Eve nails? After all, you can do several manicures in December … During the winter holidays, you can change the pattern 3-4 times!
I hope you like my colorful photo-collections of ideal nails 2018 for your inspiration! Choose the one you like best! Wish you all happy holidays!