YSL Eyeshadow Palette Couture: My Favorite Innovation 2017
Hi everyone! 🙂
Today I'm rounding up some ideas on the best eyeshadow palette 2017. From my opinion, this is a new collection of eyeshadow palettes COUTURE by Yves Saint Laurent! This creation is a tribute of thanks to the great couturier. The collection includes eleven make up palettes, each consisting of five shades that are in a perfect harmony with each other, in a case with a corporate logo. YSL eyeshadow palette COUTURE is perfect for your eyes! I had a personal experience with this product and I promise you will LOVE it!
YSL Palette COUTURE – Inexhaustible Source of Color!
In my opinion, COUTURE eye makeup palette shades reinterpret the timeless style standards of the Yves Saint Laurent House in a new way. Expressive images, ideal proportions and legendary names – the new YSL eyeshadow palette has truly become the embodiment of Yves Saint Laurent style. Thanks to the new generation formula and the widest range of shades and effects, COUTURE product is an inexhaustible source of color for the creation of magnetic, mesmerizing, unique, supersensible images!!!
Five-color shimmer eyeshadow palettes are presented in the corporate gold case decorated with the famous Cassandra logo. Inside, the bright graphic design of the clear black lines and bright color blocks reminds of the great couturier of the legendary collection of Mondrian dresses.
This YSL makeup set COUTURE collected colors from all over the world, brought by Yves Saint Laurent from long travel, real and imaginary… This product is a tribute to the great talent of Yves Saint Laurent, who created a timeless style, always topical, individual and unlimitedly attractive for a modern woman!
I think this cult collection of makeup palettes is created for bright personalities, for those who want to express themselves, to show their character. COUTURE is a new style, new opportunities for creativity and attracting admiring looks!
YSL Eyeshadow Palettes: 11 Color Sets Review

YSL new product presents a new collection of eleven pallets, each of which harmoniously combines the five colors that embodied the DNA of the House of Yves Saint Laurent. This collection should become an integral part of your image, like a tight silk couture dress, flannel tuxedo or trench Rive Gauche! This "costume", full of color, texture games – from matte eyeshadow palettes to pearly, giving satin glow or metallic shine – will help to emphasize all the facets of eye beauty! Now I want to show you all 11 color options!
No. 1 TUXEDO
This is the famous tuxedo for the eyes: the symbol of the creativity of Yves Saint Laurent, which has become an indispensable thing in the wardrobe of the woman living in the megalopolis. With these colors, your eyes acquire a glossy luster, accentuated by matte smoky black and semitones of the gray flannel. i LOVE the mysterious image of "smoky eyes", somewhere on the verge of light and shadow, feminine and strong at the same time! For me, this is one of the best makeup palettes ever!
No. 2 FAUVES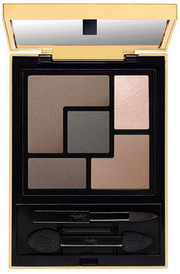 This is a hot sand / gold eyeshadow palette – these colors blend harmoniously with warm brownish shades of black and ebony wood. Eyes acquire a tone of timeless elegance, like a cloak draped over shoulders over a summer dress! 🙂 My favorite gold eyeshadow among all other brands!
No. 3 AFRIQUE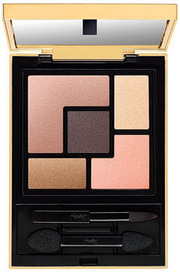 Also my favorite 🙂 This is like…well. imagine a scorching sun and twinkling twilight in the savannah, sacred sands, in safari style tones… Five shades represent all the exotic miracles of Yves Saint Laurent, five journeys to distant corners of the world, bathed in the sun! 🙂
No. 4 SAHARIENNE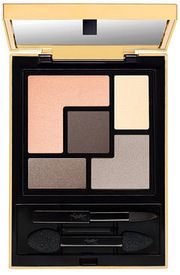 Symbolic shades of this YSL product remind images of sun-drenched sand dunes in a land of light and shadow. This warm eyeshadow palette resembles a cult safari jacket, which to this day is tirelessly interpreted by fashion designers.
№ 5 SURREALISTE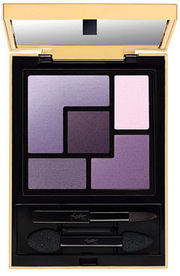 I would say these are delightful shades of purple, pink and lilac flowers. Creating a mysterious image of "smoky eyes", this collection recalls Montparnasse, drowning in the rays of the setting sun, and the artistic images of the 20s-30s. I think this is the best eyeshadow palette for brown eyes.
№ 6 RIVE GAUCHE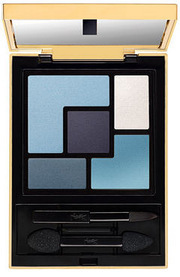 The one I use very often 🙂 Now imagine blue-gray Indian cashmere or thunderclouds. Imagine a jacket made of cotton fabric, complemented by jeans. This harmonious collection of blue shades is excellent for Sunday in Paris, walks along the Seine embankment and Boulevard Saint-Germain. My favorite eyeshadow palette for blue eyes!
No. 7 PARISIENNE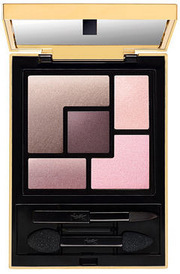 This set of harmonious pink and lilac shades gives your eyes a soft pink fleur, resembling a game of twilight shadows on the walls of an apartment in Paris 🙂
No. 8 AVANT-GARDE
In the center of this YSL eyeshadow palette – bohemian gray; around – metallic shades of green, shimmering in the light of cosmopolitan freedom. In these colors, I hear footsteps echoing the famous cobblestone pavement of Paris!
№ 9 LOVE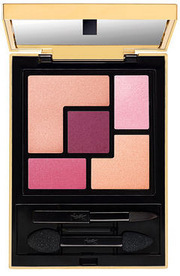 This is the explosion of pink shades, a declaration of love for all the muse of Yves Saint Laurent past and present! Heart beating with excitement; eyes that radiate joy and love! This pink eyeshadow palette was created for special events 🙂
No. 10 LUMIERES MAJORELLE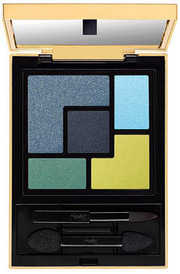 Imagine blue fountains, the abundance of lush greenery, lemon trees with bright fruits. The shadows play with all colors, like the tail of a peacock radiating the exotic beauty of the tropics. After all, the abundance of the tropical world inspired Yves Saint Laurent to create many masterpieces! A perfect choice for a beautiful eye makeup!
№ 11 BALLETS RUSSES
This YSL palette includes 5 delightful pink shades of soft velvet, bright muslin, covered with bizarre drawings, purple and blue overflows of belts and turbans. The explosion of bright colors, a tribute to the favorite collection of Yves Saint Laurent.
YSL Eyeshadow Palette – New Color Technology for a Perfect Eye Makeup
Why do I love this collection? The new generation formula and unique patented manufacturing technology help create amazing color effects. COUTURE product offers five shades that I COMBINE in many variants to create super sensitive and maximally persistent images. Below I'd like to point out some features of this professional eyeshadow palette that have all chances to become your favorite!
"Color Strengthening" Technology
The innovative formula has the foundation, which enhances the pure color. Nothing can spoil it. I LOVE the color – radiant, intense, bright – comes to life in a variety of shades. Thanks to the creamy base containing oils, the shadows have an ultra-comfortable texture that lays evenly on the eyelid. A unique formula provides resistance for 12 hours – shadows will not smear. The color is clean, perfectly even, keeps all day, and there is no need to correct make-up what I really appreciate!
High Concentration Color Set
Thanks to the "Clean Color" technology of this YSL makeup set, you can create a great variety of spectacular images with a single product: from simple seductive options using one shade to haute couture creations. Matt or pearl, metallic or iridescent – any combination is possible due to the high concentration of pigments and nacreous particles. Pure color allows you to create vivid, memorable images through the game of contrasts or the blending of tones: from shabby "smoky eyes" to intense, from gentle and light to bright and bold. Experiment!
Two Applicators for Different Goals
The most important thing is that COUTURE sets are equipped with two applicators to make the application even more comfortable, – they are easy to use and provide high accuracy. The first applicator has two different sponges to achieve the desired effect: the rounded is used to apply an intense, bright color; thin cone-shaped tip – for clear, graphic strokes and arrows. The second applicator is provided with a brush to create a padding effect or to shade the color, if necessary. Maximum color, simple comfortable application! These two accessories help me create beauty without boundaries!
YSL Eyeshadow Palette: My Personal Advice and Tips for Application
As I already said, this collection of eleven sets based on contrasts and harmony. Now, every woman has access to a kaleidoscope of endless combinations for creating new images and new discoveries in eye makeup. Here I want to give your some advice based on my personal experience. You are welcome 🙂
Base Tone and Highlighter
When choosing colors, you should rely on the results of measurements and observe the correct proportions. There are no clear rules, but if you apply a basic tone along the line of the eyelashes and blossom up the eyelid surface, your eyes will look more expressive. If you apply a highlighter on the inner corner of the eye or the protruding part under the eyebrow, this will add radiance to your eyes.
Three Colors for Three Images
Image № 1: "SMOKY EYES". To create "smoky eyes", paint the shadows with layers from the darkest to the lightest. The most intensive shade should be applied along the line of upper and lower eyelashes and shade upward and to the sides. The next stage – a profuse application of carcass. For maximum voluminous and sensual eyelashes, I recommend using Mascara Volume Effet Faux Cils Shocking!
Image № 2: "CAT EYES". To create an exquisite feline look, apply the darkest shade along the line of upper and lower eyelashes to the outer corner of the eye, shade up and to the sides as far as you see fit. Apply mascara Mascara Volume Effet Faux Cils, paying special attention to the eyelashes located at the outer corners of the eyes – and the flirty image is ready! I'm telling you, this is the best eyeshadow for creating cat-eye makeup!
Image № 3: "REFINED". To create a sensual, refined image, apply the darkest shade of YSL makeup set between the moving and still eyelid, and along the line of the upper and lower eyelashes. Then apply a lighter or more contrasting color on the central part of the rolling age and blend to make the look open. Finish the image by applying Mascara Volume Effet Faux Cils Baby Doll, which lengthens the eyelashes and visually makes your eyes bigger – and the innocent flirty image is ready 🙂
YSL Eyeshadow Palette COUTURE: How To Create Tough Eye Makeup?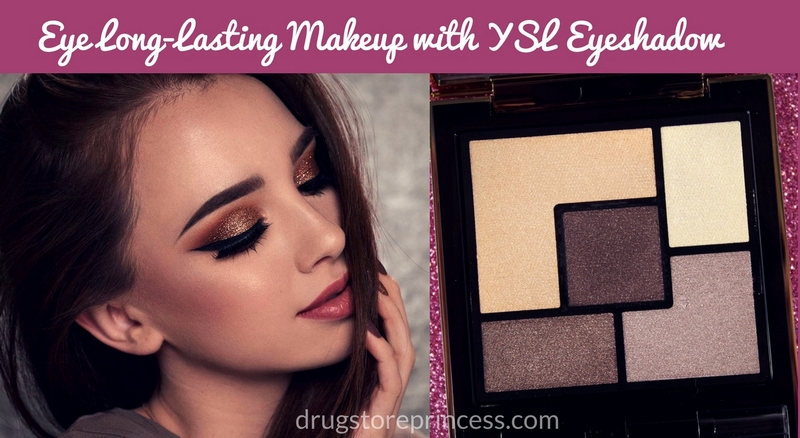 To make my eye-makeup long-lasting, I apply Touche Eclat foundation on the eye area, then I use Dessin Du Regard pencil and shade to make the eyelashes visually thicker and more expressive. After that, I use YSL glitter eyeshadow palette with a large applicator by patting movements, in order to fix the shade as best as possible on Touche Eclat foundation, then I shade with a brush. Then I repeat these actions again, applying a layer of another shade over the first, from the darkest to the lightest. A dark shade helps to make the color more intense, and a neutral eyeshadow palette visually adds brilliance to my eyes, creating a three-dimensional effect!
To sum up…I think YSL COUTURE is one of the best and most popular eyeshadow palettes 2017, and it is justified! A wide selection of color will allow every woman to create her perfect makeup! High quality is another reason for the popularity of the product. Of course, this innovative collection 2017 can NOT be considered a cheap eyeshadow palette, its price is about $60.00. Rather expensive but worth the experience!