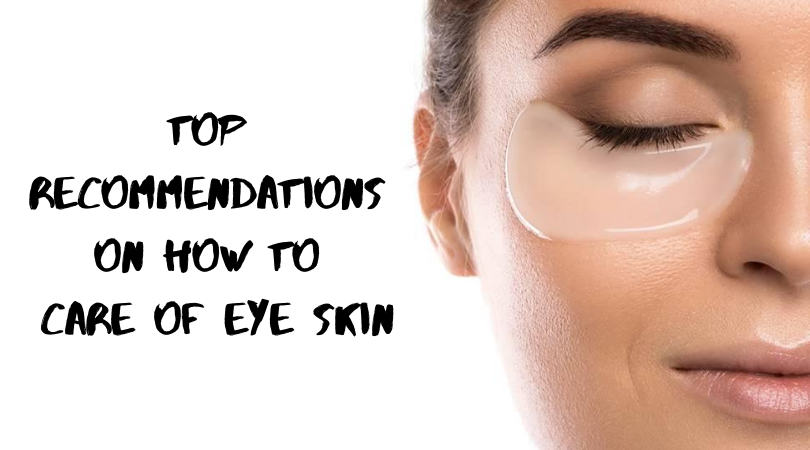 Top Recommendations on How to Care of Eye Skin
The skin around the eyes is different from other face skin: it is thinner and much more sensitive. It requires special eye care because of these features. You need to start caring of your skin at a young age. If you take care of the skin around the eyes correctly, it will retain its elasticity longer. I will describe several steps of how to make your eye skin healthier.
Apply all products along massage lines
In order not to stretch or damage the delicate skin around the eyes, all products must be applied as delicately as possible. It is important to do this along the lines of skin stretch – from the outer corner of the eye to the inner one along the bones around the eyes.
It is worth considering that most of the products are intended only for the lower eyelid. Creams or serums can be applied to the movable eyelid only if the manufacturer notes this possibility in the instructions.
Clean your skin regularly
Even the most expensive care will not be effective if you do not prepare the skin for the beauty products. The skin must be clean in order for the active ingredients of the cream or serum to saturate the skin.
Our skin is constantly exposed to negative environmental influences. Most women use makeup extensively. During the day, the skin becomes dirty, so one of the main stages of care is cleansing.
You need to wash your face twice a day, morning and evening. You can find hundreds of cleansers in stores, but I prefer pharmacy cosmetics more. It is clinically tested and proven to be effective. In my practice, I use Esthederm – Osmoclean Calming Cleansing Milk – Make-up Remover. This is a two-phase product – it consists of oil and water. The oil effectively removes all types of impurities and even copes with waterproof makeup.
Morning and evening moisturize
Moisturizing is just as important as cleansing your skin. These two stages are the minimum program for the skin around the eyes. For young skin, for example, regular cleansing and moisturizing is generally sufficient. Regular hydration in the morning and evening can slow down age-related changes.
I recommend to my patients and clients Eau Thermale Avene Soothing Eye Contour Cream. It is an excellent moisturizing treatment even for the sensitive skin around the eyes. The best option in terms of price-quality ratio.
More mature skin may need age correction. Moisture alone may not be enough. In this case, special anti-aging products can be added to the basic care, IMAGE Skincare Ageless Total Eye Lift Crème. It quickly restores skin elasticity, smoothes fine wrinkles and reduces the depth of more visible wrinkles.
Use special products to relieve swelling
With age, edema and dark circles may appear in the area around the eyes. Sometimes they appear at a young age.
It is important to keep a healthy lifestyle to avoid these problems: move more and spend time outdoors, keep a balanced diet, eat less salty and fatty foods, and avoid alcohol and smoking.
Modern cosmetology can help make dark circles and swelling less noticeable. This is especially important for those who have them due to the peculiarities of the face and skin complection. I recommend choosing products to improve microcirculation. Creams and serums with a draining effect will help.
I can recommend Martiderm Expression Eye Contour and Lip Care. The cream not only fights edema, but also tones the skin, makes the look fresher and more relaxed.
Use masks and patches (pads)
Masks and patches are a great addition to the care. You don't need to use them every day – just a couple of times a week.
Patches – special pads under the eyes. The patches are impregnated with beneficial ingredients. It is ideal if you need to quickly cleanse the skin around your eyes. The patches do not have a deep effect, but in 10–20 minutes they can tighten and refresh the skin, reduce swelling. Before use, the patches can be kept in the refrigerator for a short time: they will cool slightly, and the effect will be more noticeable.
Recently I tried new products:
I really liked them: they simultaneously remove puffiness, circles under the eyes and noticeably smooth wrinkles.
Often, women ask me on how effective traditional remedies are. These are various ice or tea compresses and cucumber masks. It seems to me that these funds may be present in the care, but one should not expect the effectiveness of cosmetic creams, masks and serums from them.