Kylie Jenner Makeup: Ideas, Tutorials, Inspiration, Beauty Products 2020
Kylie Jenner is a model, Instagram star, millennial idol and beauty icon, whose YouTube videos have millions of views. We tried to repeat the canonical Kylie Jenner makeup look.
Features of Kylie Jenner makeup
Key details of Kylie Jenner's image are perfect matte skin, accentuated cheekbones, eye makeup using the cutcrease technique, and, of course, sensual matte lips in a nude shade.
Kylie Jenner makeup product list 2020
Kylie Jenner's classic everyday makeup consists of 15 steps and requires the use of a whole arsenal of tools, the total cost of which is estimated at almost $400: the star once admitted to this on her Snapchat. You can use similar products from your makeup bag, and reduce the number of steps to eight. So, you will need:
Primer with a shine effect:
Dense foundation with a matte finish:
Eyebrow pencil one tone darker than usual:
Nude eye shadow palette:
Pencil for eyeliner pink:
Concealer:
Beige lipstick:
Blush:
Mascara:
False eyelashes:
Basic set of makeup brushes:
Highlighter:
Kylie Jenner everyday makeup tutorial
Got everything you need for makeup? Then let's start creating a make-up look in the style of Kylie Jenner!
Tone
To create the perfect look like Kylie's, you need to properly align your complexion. Apply the first layer of a pearl shine base and top with a liquid foundation with a distinct matte finish. Apply the tone with a dense brush, which will provide dense coverage.
Eyebrows
In this case, you can take a pencil or lipstick half a tone darker than you usually use, and draw a graphic eyebrow. If it is difficult to do this with your product, then you can use the corrector trick and remove all the blemishes with the help of a tightly packed small flat brush;
Fix the hairs with a special gel, pointing towards the temple.
Cheekbones
With the help of the sculptor, accentuate the indentations under the cheekbones for a more toned face.
Blush
If you analyze Kylie's 5-10 looks, you will notice that the blush is applied to both the apples of the cheeks and the protruding parts of the forehead. This trick helps to give the face a healthier and more bloom-ing look. Use a subdued, muted blush, such as a wilted rose.
Eyes
Apply a soft coral shade to the crease of the eyelid and pull it towards the temple;
Add a camel shade to the feather, and line the eyes for more vol-ume;
Use a dark brown warm shade of shadows to draw an arrow, curling the tail up. To make the shadows brighter and more saturated, pre-wet the brush with a liquid primer or plain water;
Use a light pink shade of a pencil to draw the lower mucous mem-brane of the eyes to make the look more open and the eyes brighter.
Mascara
Apply one layer of mascara and add several tufts of eyelashes to the outer corners of the eyes.
Lips
Use a mix of beige / brown pencil and lipstick with a beautiful buttery finish. If you want to create a Kylie Jenner holiday makeup, use a matte wine lipstick.
Highlighter
To complete the trim, apply some highlighter to the cheekbones and use the corrector to add volume to the face, further contouring the cheekbones. Use it to highlight the area under the eyes.
Done!
Top 5 Kylie Jenner makeup tips for your perfect look
Here are some helpful tips from the star who really understands how to do a perfect makeup.
Check out Kylie Jenner photo with no makeup: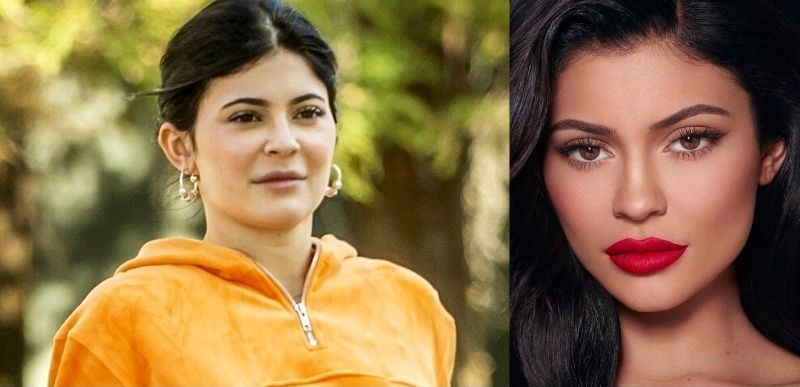 1. Mix foundation with moisturizer
Kylie always mixes her foundation with a moisturizing fluid or adds a drop of cosmetic oil to the bottle for flawless skin tone and care. Jen-ner also recommends mixing different shades and products from different brands to find your perfect tone. By the way, personal make-up artist Jennifer Lopez often resorts to the same beauty trick.
2. Don't forget about blush
They say that once Kylie spent over a thousand dollars on blush alone: this tool is really one of her favorites. Of course, we do not call for spending the entire salary on blush, but one copy should be kept on hand without fail. Very often, a little blush is all that is needed to instantly transform an image.
3. Take time to care for your lips
Kylie Jenner's lips are her calling card, so she looks after them especially carefully. In addition, the star loves matte lipsticks, which dry the skin. Without regular care, they would not look so attractive. Use a scrub once a week to exfoliate dead skin. Many brands produce special lip scrubs, but a regular one with delicate abrasive particles will do. And always have a proven lip balm on hand!
4. Use a wet sponge
Before use, the sponge must be moistened and wrung out properly – this is one of the basic beauty rules. Kylie Jenner uses a wet sponge even for applying powder, so as not to create a puff cake effect on the skin.
5. Tint the lower lashes
Kylie emphasizes the lower lashes, but not with black mascara (which instantly makes the look heavier) but with brown. Let's take a note!
Also, watch the best video tutorials of Kylie Jenner's makeup on the Youtube channel:
Kylie Jenner makeup brand
Even those who are very far from the beauty industry know about the famous Kylie Jenner lipsticks, only the lazy did not talk about them. Loyal fans of the girl instantly buy products from new collections, and spiteful critics meticulously discuss each new product.
The history of Kylie Cosmetics dates back to the days when the youngest of the sisters of the Kardashian-Jenner family was accused of using lip fillers. Then the girl joked that she creates such an effect with lipstick and a pencil.
And just a few months later, she released the first batch of nude matte lipsticks and pencils. Fans sold out a new product in a matter of minutes from the start of sales!
By the way, the same sets of a liquid lipstick and lip pencil in branded packaging with the image of Kylie's lips are still popular!
Initially, the collection featured light shades of pink, brown and beige. Over time, the line of lipsticks was supplemented with other shades: red, cherry, burgundy. Then Kylie created a few limited, bold colors – purple, orange, hazel.
The girl's fans liked them so much that it was decided to leave the lipstick as a permanent product of the series!
The most popular colors of matte lipsticks were later collected in sets of 5 and 6 shades and for some time were available for ordering on Kylie Jenner's official website.
However, at the moment you can find only a lot of fakes of these products on the Internet. Along with the kits, Kylie launched pencils and gel eyeliners under the name Kyligner.

Matte lipsticks were followed by lip products in satin, gloss and metallic finishes and gloss. Their sales broke all records!
After such success, Kylie decided to expand the company's range and re-leased an eyeshadow palette. Positive blogger reviews and an instant soldout resulted in 5 more palettes being released. The eyeshadow is characterized by good pigmentation and durability.
The range of colors includes mostly warm shades, perfect for the owners of brown eyes, one of which is the brand owner.
Jenner also paid attention to products for the face. Kylie Jenner's highlighters, blush, and loose powders were soon on sale. Highlighters, by the way, got a funny name in honor of their creator – Kylighters.
Most recently, the Kylie Cosmetics brand launched concealers (and the palette of shades is simply amazing) and classic cream lipsticks, which were sold out from the site in a few minutes.
Kylie's cosmetics cause controversy among both beauty bloggers and ordinary consumers. Jenner has repeatedly had to change the formulas of some products to match their quality with the price.
In addition, it is impossible to call Kylie Cosmetics products cheap, the minimum price for Kylie Jenner product is $17.
And one of the latest novelties, the Kylie Cosmetics brush set, was met with skepticism by the beauty world and received many negative reviews. This is due to the price of $360. Agree, it is not so easy to immediately pay such an amount for brushes. Kylie has publicly reacted to the unfair price allegations on her Twitter. The girl wrote that she always tries to make the cost of the product justified.
Check out Kylie Cosmetics best sellers:
Kylie Cosmetics 'Red Velvet' Liquid Lipstick
Kylie Jenner Cosmetics Matte Velvety Liquid Waterproof Lip Gloss 
JENNER Birthday Edition – 6PCS Women Long Lasting Lip Gloss
Kylie Cosmetics – Fall Collection (The Purple Palette – Kyshadow)
Kylie Eye Makeup Eyeshadow Palette (The Sorta Sweet Palette)
Kylie Cosmetics Cosmetics Koko K Gloss, Pale Pink
The Bronze Palette from Kylie Cosmetics Eye Makeup Palettes
So, in just a few years, the Kylie Jenner line of matte lipsticks has turned into a full-fledged cosmetic brand. New products from celebrities go on sale every season, and for Kylie's birthday, the company always releases something special to delight fans.