Chemical vs Physical Sunscreen: Which is Better?
Are you going on vacation? Think properly and towardly about types of sunscreen spf you will apply to protect skin from sun rays. My post introduces to you Chemical vs Physical Sunscreen, the second phenomenon is also known as chemical free or mineral sunblock. Such means may be bought in ordinary drugstore at attractive price. Let's start to make you ready for any vacasion!
Physical Sunscreen Essence, Ingredients
Non chemical sunblock assists creating a reliable protective screen reflecting UV. The main ingredients of mineral sunscreen are the following substances:
Titanium dioxide is one of the components that is apllied in most cosmetic means as combination of physical or mixed protective complexes. It is a chalky titanium microparticles that protect from two spectrum of sun rays. It is a safe and effective ingredient. Titanium dioxide gently affects skin, does not clog pores and does not cause any allergic reactions.
Zinc oxide is the second most popular organic component in UV filter. It does not absorb into skin, but looks like a thin layer on epithelium, meantime forming a strong barrier. Exactly his component provides sunscreen products with a persistent whitish color.
Iron oxide is a pigmented reflecting constituent, which is most often applied as a part of decorative cosmetics. It has properties not only of sunscreen, but also of toning means.
Silicon oxide is also utilized to create sunscreens with organic ultraviolet filtration.
How do NON-Chemical Sunscreens Work?
SPF with zinc oxide and titanium dioxide is confirmed to be the most harmless means to protect skin when sunbathing. But how do NON-Chemical Sunscreens Work? The operation process is simple and brings no harm. Physical sunscreen main effect is reflection of ultraviolet rays. Its components when applied form a some kind of "screen", which, like a mirror, reflects those ultraviolet rays that affect epithelium surface. Such a physical barrier is very effective when spaeking about two emission spectra – the rays of spectrum A and B. Therefore, such cosmetics is an excellent protection. It should be noted that the entire physical factor consists of organic components of mineral origin, so it is safe for skin of either children or adults.
Examples of Best Chemical Free Sunscreens
So many cosmetic concerns produce physical and chemical sunscreens that it becomes a norm. I select several drugstore physical sunscreens:
Biore Sarasara Aqua Rich Watery Essence SPF50+/PA++++ 50g Sunscreen –

$8.40
Neutrogena Sensitive Skin Sunscreen Lotion SPF 60+ –

$8.95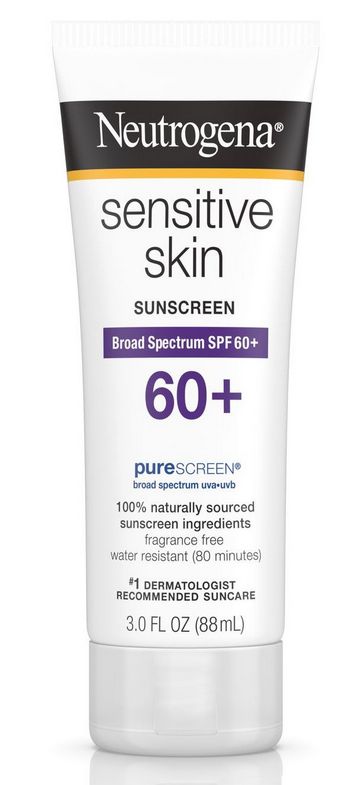 EltaMD UV Pure Broad-Spectrum SPF 47 –

$24.50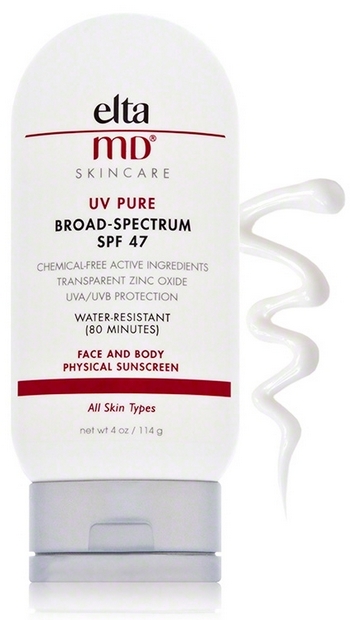 Replenix Sheer Physical Sunscreen Cream SPF 50+ –

$32.00
EltaMD UV Clear Broad-Spectrum SPF 46 –

$32.50
SkinCeuticals Physical Matte UV Defense, SPF 50, 1.0 Fluid Ounce – $37.99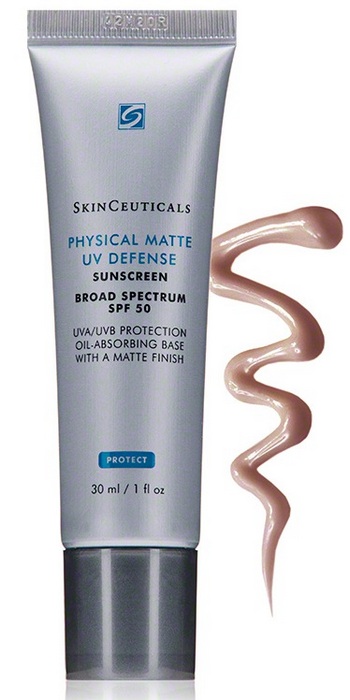 This list contains cheap as well as expensive mineral sunblocks that's why all women will find individual for them means. Mineral sunscreen has a number of positive characteristics. It reliably protects skin from burns and irritation, excluding side effects appearance. There are mineral components in such sunblocks composition that create a protective screen on epithelium surface, reflecting ultraviolet rays. If you care about your skin, you'd better to make mineral sunscreen vs chemical sunscreen comparison and make up a choice of the best one!
Chemical Sunscreens: Is It So Worse?
Chemical sunscreens are synthetic compounds that are capable of absorbing ultraviolet spectra of B and A. Most modern sunscreens use both types of filters. You want to make sure that you have utilized chemical one, – look for the UVA on package. If it does not, look for para-aminobenzoic acid, cinnamates, salicylates, parsol 1789, mexoryl in composition. Chemical filters can cause allergies: reddenings, itching.
Chemical Sunblocks Elements
Chemical Sunblock Elements
Short Description
Avobenzone
merges UVA-rays entire spectrum, most of all — UVA1 but it does not protect against rays of UVB spectrum. The most sought-after worldwide and well tested. Soft and safe. Fat-soluble, waterproof.

The maximum concentration is 3%.

Mexoryl SX, XL
well studied modern efficient sunblocks. Photostable. Mexoryl SX is water-soluble, Mexoryl XL is oil-soluble. The maximum concentration is 3%.
Tinosorb S, M
approved up-to-date effective means produced by German concern BASF. A wide-range filter. It blocks all types of sun rays – UVB, UVA1 and UVA2. Very photostable, oil-soluble, waterproof. Damages skin minimally. The maximum concentration is 10%.
Octocrylene
merges UVB and reflects UVA2 rays giving no full protection from the entire spectrum of UVA-rays. Photostable, oil-soluble, and waterproof. It is penetrated skin. The maximum concentration is 10%.
Benzophenones
merge UVB and reflect UVA2 rays providing no full protection from entire spectrum of UVA-rays. It possesses antimicrobial abilities. This subscreen means has a pleasant smell of rose and geranium.
Oxybenzone
Photostable. It is absorbed by skin. The maximum concentration is 6%.
Sulisobenzone
Photostable. Absorbed by skin. The maximum concentration is 5%.
Dioxybenzone
Insoluble in water. The maximum concentration is 3%.
If you do not find no one element from this list, it implies you have physical sunscreen in hands. But if you come across with chemical sunscreens, it is better to know more about it because they easily penetrate skin and bloodstream (according to research, they are found even in human milk), cause cell mutations, some of them act as hormones, affecting reproductive system, many of them cause moderate to severe allergies. In general, if your skin is not sensetive, you are welcome to use such sunblocks to protect from ultraviolet radiation.
Chemical vs Physical Sunscreen
Different types of ultraviolet filters have special properties. They differ from each other not only in constituent components, but also in principle of action. If chemical protective factor has a feature to penetrate epidermal barrier and neutralize free radicals directly in cells, physical factor has a different purpose. The difference between mineral and chemical sunscreens lie in mode of performance. Physical sunblocks do not penetrate into skin blocking pores, when chemical penetrates into skin and bloodflow "killing" sun rays effects into sells directly.
In cosmetics, many sunscreens are used because no one as it is has all the necessary properties – full coverage of radiation spectrum, photostability, pleasant texture. And in this sphere there is no magic pill. Therefore, for maximum efficiency in terms of protecting skin, as well as cosmetic consistency, a whole combination of filters is used.
The best option is a combination of physical and chemical sunscreens. Look for zinc oxide, titanium dioxide, avobenzone with Mexoryl or tinosorb on packages. These are effective modern long-acting "wide spectrum" sunblocks, protecting both from UVA and UVB sun rays. I believe that there are women who may use different means for lips, for face and whole body. In such a case, women should buy various means to protect all surfaces of skin when sunbathing.
I hope, this information will be useful for when you are worried about vocation. Have nice days full of emotions and great experiences!