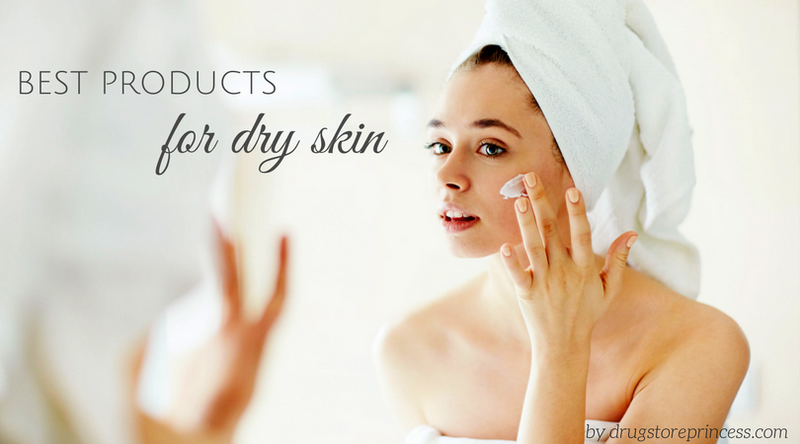 Top-5 Best Face Products for Dry Skin Care for You
In adolescence, girls are more likely to face problem of acne and uneven skin, and after 20 and more – often dryness and lack of moisturizing and nourishing. The case can be as in changes in the body, in dry and cold climates, poor ecology, and in consequences of controlling acne with alcohol-containing products.
That's why I decided to devote this post to moisturizing creams – problem that, in my opinion, affects most girls after 20. In this post I want to talk about the most effective best products for dry skin with which I tried to solve this problem.
Clarins HydraQuench and HydraQuench Rich
About Clarins company you can tell a lot, but for now, I'll tell you about my new favorite products HydraQuench and HydraQuench Rich, which made an indelible impression on me.
From manufacturer: It restores and maintains natural hydro-balance for a long time, while simultaneously increasing its elasticity. Satisfies all needs of normal and dry complexion, regardless of temperature of environment and climate specifics. As a result of application, your face looks smooth, soft and young.
This is a good face cream for dry skin that was a find and a rescue for me! Perhaps, no other product has given me such a quick and powerful effect, so I can not get enough of my new purchase.
Only after one easy application of a good moisturizer for dry skin in the morning your face is instantly saturated, comes to life and begins to shine. In this condition, it can appear long enough and does not require repeated application.
With properly selected care complex, this cream will be an excellent supplement, and problems with dry, dehydrated or normal dry-prone epidermis will no longer arise.
For girls suffering from particularly strong sense of tightness, Clarins advises using HydraQuench Rich, i. e. a stronger daily use face cream for dry skin of the same series, and apply it not in the morning but at night. This is a very thick and powerful product that even more affects complexion, completely saturating it.
Pros: immediate action, perfectly nourishes and restores water balance, the face immediately becomes soft, shiny and very well-cared.
Cons: not defined.
La Roche-Posay Hydreane Riche
From manufacturer: Moisturizing cream for sensitive skin. Moisturizes and reduces sensitivity. Hydrolipids – a new generation of hydrofixators – naturally penetrate epidermis due to their high affinity for skin cells. They allow HYDREANE RICHE to saturate cells with Thermal water La Roche-Posay, soothing and moisturizing it. Enriched with Selenium, Thermal water enters epidermis and day after day reduces sensitivity, giving it lasting sense of comfort.

Result: The skin is perfectly hydrated, comfort and elasticity restored.

Recommendations for use: apply on face and neck in the morning and / or in the evening.
This means of a rather dense consistence, it seems to me, more nourishes than moisturizes the skin. It has a slight but specific smell, reminding a cream with leeches. I liked the cream, but I still expected more from Roche-Posay, or I picked up the item incorrectly, focusing on reviews.
In principle, for title «moisturizing cream» for sensitive skin, the product seems too dense and fatty, on the other hand, it nourishes really well, restoring dry and dry-prone complexion. The only drawback I could find for myself is the fact that the cream does not give a feeling of hydration that I really need, and is more suitable for winter period, when your face needs more nutrition and protection than moisturizing.
Pros: nourishes very dry complexion.
Cons: does not give feeling of moisturizing.
Aubrey Rosa Mosqueta Night Cream
Once I ordered a couple of care means via a British online store, I received a whole package of samplers, among which there were only unfamiliar manufacturers. In a period of special cold and winds, I decided to try a night cream with rose oil and did not believe the result I obtained in the morning.
At once I will say that not all are aware of this cream, for it is sold only in some organic stores, and it is easier to get it in the Internet. After reading reviews, I realized that the means has both an army of fans, and a lot of haters. But still fans prevail.
From manufacturer: The cream contains alpha-lipoic acid, which is a strong antioxidant; protects collagen from free radicals. Vitamin E moisturizes and softens, and organic oils of rose and shea butter have beneficial effect on softness and smoothness. A strong formula restores youth and freshness of skin.
So, before using this product, you need to shake it well, which would mix all oils once more, and then apply a light layer on the face. Oily enough in consistency it has a very specific smell of oils and other impurities, which you might not like, but certainly it will not interfere with sleeping.
This face cream for extra dry skin I consider to be the most real heavy artillery, for it is called upon to save the most dry, stale and elderly complexion from dryness.
The result received in the morning pleasantly surprised me, my face looked as if I had a week at spa. However, do not forget that oil is not suitable for everyone, and if you have combined complexion with oily areas, it is better not to use this means on oily places. The fact is that such complex formulas with a variety of oils designed to nourish and moisturize can trigger appearance of acne in oily zones.
Pros: very strong moisturizing effect. great for use in winter, suitable for very dry and mature skin.
Cons: use with caution on oily zone.
Biotherm Aquasource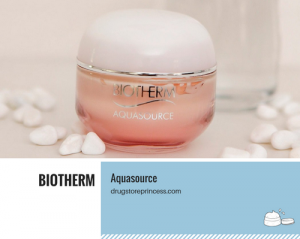 For several years, this product is number one in my care system. However, a month ago I began to notice that the cream on me does not work anymore, because acclimatization has occurred. Nevertheless, this means has served me an excellent service, for the past 3 years I have been crazy about it.
From manufacturer: A gentle cream quickly restores natural water balance and maintains it from the moment of application for a long time (up to 24 hours). Restoration of hydrobalance appears due to Extract of Thermal Plankton (developed by Biotherm), which creates appearance of extensive mesh that holds water. Composition of this daily face cream for dry skin is also enriched with amino acids, which help to retain liquid, and biolipids, which facilitate penetration of moisture into cells.
I used this «rose cream» for dry zones. Consistency is very light, almost melting on your face, so the product is convenient to use for both lightly moisturizing, and as a base for makeup.
The product very quickly absorbs, well nourishes and humidifies.
Pros: perfectly copes with the task of moisturizing, ideal as a base for makeup.
Cons: not defined.
Aquasourse Non Stop Oligo-Thermal Gel Intense Moisturization
From manufacturer: A light, refreshing water-based gel for normal and combination skin quickly restores its natural water balance and maintains it from the moment of applying for a long time (up to 24 hours). Aquasourse Non Stop Oligo-Thermal Gel Intense Moisturization is a real wave of life-giving moisture with high content of tonic oligoelements (copper, zinc, manganese, magnesium) and pure extract of thermal plankton, which has soothing properties and is equal in effectiveness to 5000 liters of thermal water. Active substances that make up product cause instant and strong feeling of freshness. Aquasource Non Stop is an enhancement of ability of epidermis to retain moisture and long-term hydration of skin. With constant application, it will prevent appearance of wrinkles caused by dehydration.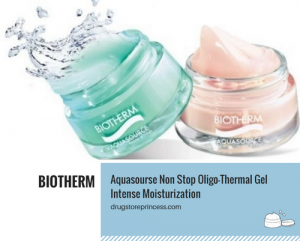 The gel should be applied to thoroughly cleansed face every morning. This will allow you to have elastic, resilient and healthy-looking face and general state of comfort throughout the day.
The novelty from Biotherm, which appeared on the market before 2012, is a very light gel, perfectly copes with the task of moisturizing all day long, so that the skin does not look dry. However, this gel was too light for me, as unlike cream it does not make complexion silky and soft and does not affect overall appearance. As it seemed to me, the means is aimed only at maintaining water balance, due to what the skin looks moisturized, but not well-cared. I think, this product will be perfect for owners of normal and combined complexion, who needs only mild moisturizing.
Pros: moisturizes well.
Cons: does not nourish, does not give effect of cared and velvet skin.