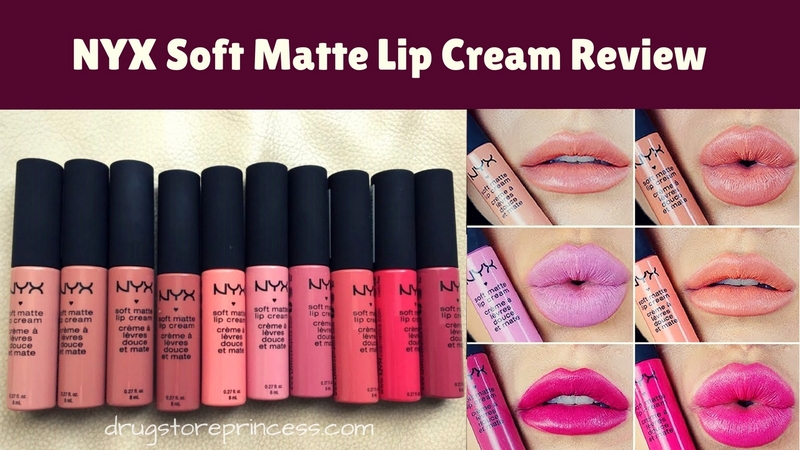 NYX Soft Matte Lip Cream Review
Hi, girl 😉
Today I want to share my personal experience with NYX Soft Matte Lip Cream, because it is perfect for me by all criteria!
NYX Soft Matte Lip Cream Review: Perfect Finish and Amazing Durability
Female lips have always been the subject of special attention, and the task of every woman is the ability to emphasize their volume and sexuality. And this beauty tool is just what you need.
The modern market is full of such products, but only a few of them can boast of unsurpassed quality. And what about fashion rules? NYX Soft Matte Lip Cream has a number of advantages that favorably distinguish it from countless analogs!
Easy to apply. In many cases, you do not even need to use a lip liner or a corrector;
Pleasant sensations. No shortcomings detected. It perfectly lies on your lips, without creating dryness and discomfort;
Persistence. You should buy NYX liquid lipstick because it lasts all day long! This product is from the series "do makeup in the morning and forget about it until the evening.";
A wide range of shades. The palette contains both pastel colors for daily use and burning, tempting shades of red for evening dates;
Low price. Any woman can afford this product. It costs about $7;
Fashionable cover. When applied to the lips, NYX lip cream glitters a little, but then gives a perfect matte effect!
NYX Soft Matte Lip Cream Review: How to Select A Color?

I have several colors in my cosmetic bag, and I can create different and incredibly fashionable images every day. Pastel colors are better for daily use. Office style does not accept flashy colors, so during working hours, you can apply delicate peach and beige colors. You can use "Transylvania", "Prague", "Copenhagen", "Monte Carlo". Lovers of pink color can choose NYX pink lipsticks "London", "Cannes", "Ibiza".
How to Apply NYX Soft Matte Lip Cream?
Many women say that product is applied comfortable, but some women with a very sensitive skin do not share this opinion. Even the official website of the company posted information that the matte effect of this liquid tool can cause unpleasant sensations. And really, if you apply cosmetics with moisturizing substances, you will not have any discomfort during the day. Unfortunately, soft matte lip cream cannot boast of caring ingredients, since they are not used when creating matte lip gloss products.
Before using the tool, moisten your lips well with a special remedy. Cosmetic stores offer a huge number of bases that can reduce negative feelings to zero. If you follow these recommendations, your lips will be maximally moisturized, and this cosmetics will not bring discomfort.
Did you get acquainted with swatches? In the photo, you can see the shades. To enhance the effect, you can use a moisturizing balm.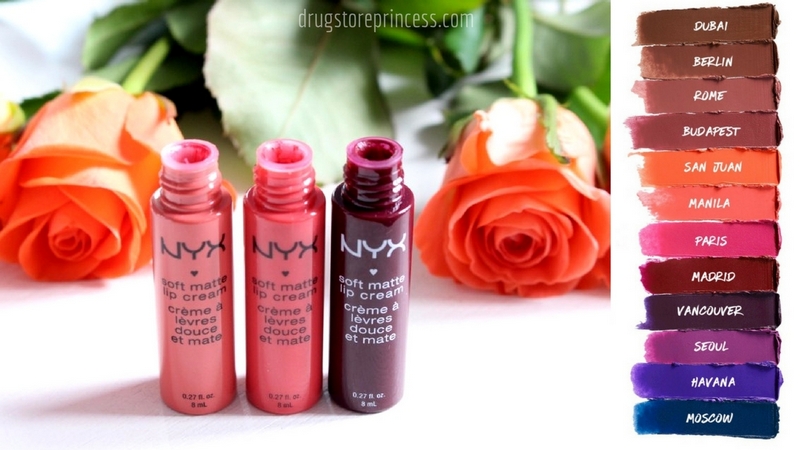 Applying such products, many women may notice that the composition spreads unevenly, with stripes and lumens. Fortunately, this one is applied just perfectly. The product fills all the cracks and micro folds, making you look very attractive. But this beauty product also has a drawback. It can not be applied to the weather-beaten and affected skin. The manufacturer recommends applying a special caregiver before applying this product.
Summing up
NYX lip matte is a perfect solution. The smart combination of price and quality is the main advantage of this product. It has a nice texture and a convenient applicator. Thanks to these features, this one of the best NYX lip products lies perfectly and does not smear.
I paid a special attention to the packaging. The laconic design, no gilded letters, and stickers – all this makes this beauty tool stylish and elegant, which is very important for every girl. The transparent material makes it possible to see how much product has already been used up. The black plastic cover is very comfortable to hold. Due to the well-designed composition and design, NYX Soft Matte Lip Cream is very popular among women!
Girls, I hope my NYX Soft Matte Lip Cream review was useful and interesting for you! This means is a must-have beauty product in my cosmetic bag! And which color is your favorite? 🙂