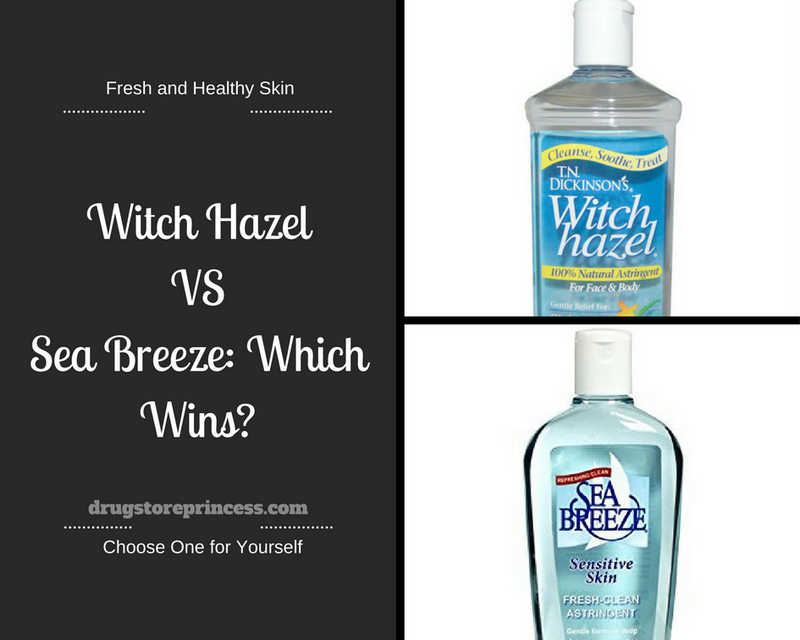 Sea Breeze vs Witch Hazel: What Wins?
Today, I am going to make you acquainted with two face cleansers – Sea Breeze and Witch Hazel. I have a desire to give you comparison of Sea Breeze vs Witch Hazel. Reading this information, you may easily make a choice what wins in this "battle".
Comparative Characteristics
Sea Breeze Astringent
Sea Breeze is intended for classic and sensetive skin as one of the most effective acne treatment. Its formula is devoted to clear up oil which trapped, dirt and makeup to avoid such problems caused by mentioned above aspects. This cleanser penetrates deep into pores to clean your skin properly.
This formula is comprised of a cleanser and ingredients for softening. There may appear cool sensation which is a signal it's working, making your skin feeling fresh and what is more important healthy.
I have defined the following benefits of Sea Breeze astringent. They are:
quick and high efficiency;
cleaning pores deep;
removing oil, dirt and makeup.
How to Apply Sea Breeze
moisten pad with this astringent;
clean face and neck;
repeat this action until pad is left clean.
This face product is for external application only. Contact with eyes should be avoided. In case of incidental penetration, you should seek for professional assistance. Flammable; ward off from open fire or flame. Keep out of reach of children.
Sea Breeze Astringent Active Ingredients
water;
alcohol denat.;
camphor;
peppermint oil;
eugenia caryophyllus oil;
eucalyptus globulus oil;
eugenol;
sodium benzoate;
yellow No. 5;
orange No. 4.
About Witch Hazel
The most popular Witch Hazel application is skin, because it is a strong antioxidant. These properties are one of the best option for fighting against bacteria within pores, preventing cell damage that can because a cause of skin cancer, aging, and accelerating adhesion.
How Witch Hazel Works
The bark, twigs and leaves of this plant are applied to extract such ingredients as polyphenols and tannins. Firther either alcohol or water are added to turn this combination into a product known as Witch Hazel water, Hamamelis water or distilled extract.
Benefits of Witch Hazel
UV radiation, chemicals in our food supply, bacteria and other germs, and environmental pollutants can become causes of skin problems appearance. Which Hazel prevents:
fast aging;
puffiness;
infections;
inflammation;
sensitivities.
Mentioned above constituents have been used for centuries to naturally help heal and prevent:
acne;
skin sores;
redness and swelling;
oily skin.
If to speak about Sea Breeze vs Witch Hazel comparison, I have my own point of view. I vote for Witch Hazel because this extract is deprived of alcohol basis. Sea Breeze is also good but in the majority of cases it is better not to damage skin by alcoholic content but due to it, this care product has gained such a great population.