The Best Makeup Bags of 2020 For Every Budget
A makeup bag is a small universal bag for storing a variety of things. Why is it universal? It would seem that the handbag is intended for storing women's cosmetics, which means that the beautiful half of humanity uses it. But in fact, a small handbag is useful not only for women. It can store hygiene items, medicines, baby pacifiers, bottles, powders, napkins, medicines and many other small things. Yes, such bags are also used by men on long trips, teenagers keeping their secrets, cosmetic professionals, little preschoolers and mothers of nursing babies. Let's review the best models and find out how to choose the best makeup bag?
Criteria for choosing the perfect makeup bag
A cheap accessory was conceived, of course, for women. It conveniently accommodates mascara, blush, lipstick – a necessary arsenal to maintain beauty. Each handbag holds a large or small, bright plastic or leather item. All models have certain characteristics that affect the choice:
Form. It can be very diverse: round, square, rectangular, oval, flat, volumetric, tube-shaped. Of course, preferences can be individual, but before you get one or another form, ask yourself the question: "will it fit into your bag?"
Size. There are very small accessories that will only fit a lipstick and a mirror. Some models are more like mini-suitcases. When choosing a certain size, think about how much makeup or other things should fit in a cosmetic bag;
Material. Accessories can be made from natural and artificial materials. Of course, eco-friendly leather or textiles are preferable for the buyer, but such things deteriorate from contact with wet objects and cannot be washed with water. Cosmetic bags made of eco-leather or leatherette are cheaper in price and have an attractive appearance, so the popularity of the models is high. Small bags made of polyvinyl chloride (PVC) are practically waterproof and easy to care for, so they are suitable for storing hygiene items, going to the shower or swimming pool;
Functionality. There are many things hiding in a purse: fragile, made of glass, with liquid filling. For safety and quick access, rigid walls and a bottom, reliable fasteners and pockets are required. This is especially important for large travel makeup bags that travel long distances and are subject to multiple impacts. Several compartments will keep beauty products in order, prevent spills and damage of things. An additional plus is the presence of an internal fixed mirror and a convenient handle for transporting the accessory;
Closing method. The most common option is a secure zipper. The best recommendation before buying is to check the smoothness of the slider, as well as the strength and accuracy of the seams along the zipper, otherwise the fastener will not last long if the threads constantly hit. Magnetic latches can be used to close the accessory, but they have a weak attraction and the bag is constantly unfastened. The same problem occurs with adhesives. After long-term use, the quality of adhesion decreases, which leads to the unreliability of the rivets;
Design. The choice is huge – from classic trendy laconic shades to bright and floral, personalized makeup junkie bags. When choosing the right thing, first of all be guided by your style or the image of the person for whom you are purchasing the cosmetic bag.
Types of makeup bags
Not everyone can limit themselves to one thing. Even the finest products cannot fit all occasions. There should be at least one accessory for each family member. As a maximum, a woman has a home, work and travel cosmetic bag for travel or going to the fitness room.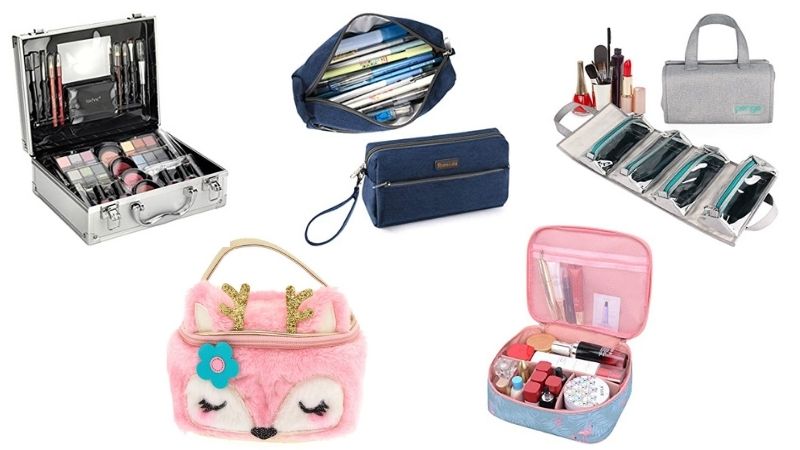 Pencil case cosmetic bag is a small accessory closable with a clasp. It will hold the most necessary beauty products – mascara, lipstick and, for example, keys. The most common shape is tube or flat. If the accessory is made of genuine leather and has a handle, then it will completely replace the main bag for a walk with children or when visiting guests. If you want to save a little on the purchase of a cosmetic case, go to the office department. There you will find many school pencil cases with compartments, and their bright and original design will cheer you up;
Organizer. It is a convenient functional attribute that can solve the eternal female problem of where the necessary things disappear at the right time. The size of the organizer is slightly larger than the wallet. The peculiarity of the model is the many pockets and compartments that can accommodate not only numerous cosmetics but also documents, keys, money and much more. Some sections are additionally protected by clasps, which makes this accessory even more indispensable. It will help you keep your beauty products at home or on a long journey;
Beauty case. It is a roomy makeup bag with hard walls and brush holders They safely store a stock of cosmetics from miniature tubes to glass perfume bottles. Inside, there is usually a mirror and many compartments. These set cases are used by professional makeup artists. They contain everything you need to apply makeup: from brushes and cotton swabs to numerous skin products, eyeshadow and blush palettes. Internal shelves can be moved apart, which makes available the necessary little things located on the lower tiers. Popular models can be crafted from durable, thick plastic, decorated with rhinestones and velvet, or a minimalistic steel case. When buying such a thing, the question arises about how much a particular model costs and whether an elaborate design is needed;
Fold-out organizer. It is a handy accessory designed for travelers. They are comfortable to use on the train and easy to place in a tent. The model is a bag that unfolds in length with a secure loop that hangs on a hook. Internal compartments are maximally protected by mesh partitions and elastic bands, which makes storage of things safe. The best manufacturers make the attribute from easily washable and moisture resistant textiles;
Makeup bags for kids and teens. In general, the functionality of such cosmetic bags resembles adult products. The main difference is the particular design. Accessories for children and teenagers are made of eco-leather or PVC, in bright, even acidic shades, or painted with cartoon characters. They can be used both for storing the first mascara and lipstick and for the desired collection of superheroes. In order to avoid mistakes when choosing a cosmetic bag, first of all, pay attention to the quality of the product. All seams should be neatly stitched with no protruding threads, the fasteners should function smoothly, and the zipper should move smoothly. Remember, it is not at all necessary to buy an expensive item. Take a closer look at inexpensive Chinese makeup bags. They usually represent good value for money.
You often use a cosmetic bag for beauty products and other little things, so try to find the type of product that suits your style. Also, some manufacturers offer whole sets of products. The set includes several cosmetic bags of different sizes but made in the same style. You can easily find what you need. Our detailed review will tell you about the advantages and disadvantages of popular models, tell you where to buy them and help you make the right choice of the perfect cosmetic bag.
Where to buy the best makeup bags?
You can easily purchase the best branded makeup bags of 2020 on Amazon. Below you can see some popular examples to every taste and for every budget – nice, cute, personalized, expensive, and cheap:
A wide assortment allows you to choose a cosmetic bag for every taste and age. Which accessory is better to buy is up to you. You can purchase a luxurious model made of genuine leather for the day out and a practical but roomy product for home use.
It is quite possible to sew an accessory for a child yourself. It will not be difficult. Visit a store for needlewomen and purchase felt or dense colorful textiles that hold their shape well, without crumbling edges.
Watch step-by-step instructions on how to sew a do-it-yourself cosmetic bag.
Making a small product at home will take 2-3 hours, it all depends on your sewing skills. Just 1 evening and your child will be able to show off an exclusive customized makeup bag to her friends.
Any cosmetic bag is designed to keep your little things in order, so try to revise the contents from time to time and get rid of used napkins, cotton pads and sticks, otherwise a handy thing will turn into a trash can. It is better to wear in it only those things that you constantly use, and then you can easily find everything you need in your beautiful and practical accessory.