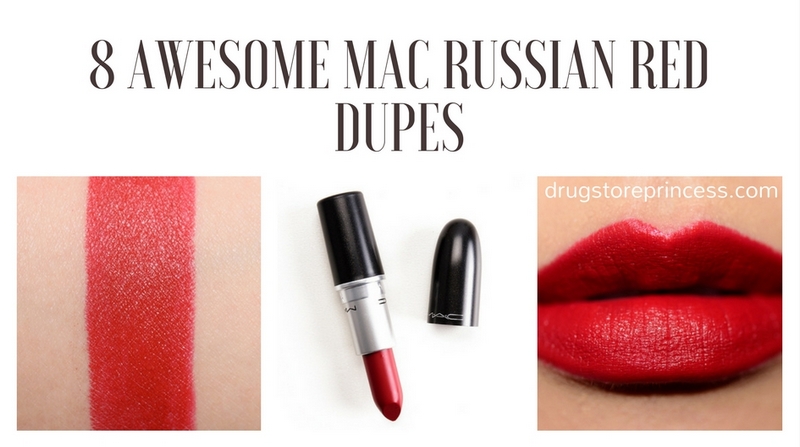 8 Awesome Mac Russian Red Dupes: Find Cheaper Makeup Products
MAC Lipstick Matte Russian Red is a favorite of visagistes and beauty bloggers of the whole planet. There are several reasons for its popularity: this shade is universal (ideally adjusted for both cold and warm color) and long-lasting (up to 5 hours with fatty snacks, up to 12 with normal ones), a mat finish, which does not dry your lips. Another secret – This product perfectly emphasizes white teeth, which can not be said about many other products.
The product has many analogs that have exactly the same shade and the same long-lasting effect. In this review, I want to introduce you 8 most successful MAC Russian Red dupes.
Best MAC Russian Red Dupes You Can Afford
1. Revlon "Really Red"
I've bought Revlon lipsticks just recently, and I was particularly impressed by the "really red" color. It's difficult to find a perfect matte lipstick because its composition contains a few moisturizing components. I'm not saying, of course, that the Revlon cosmetics does not dry your lips at all, but it is surprisingly very, very comfortable to wear. The deep matte shade looks unmatched. The skin is enriched with vitamins C and E, an extract of aloe vera. The product protects lips in cold and hot weather. Beauty and health 12 months a year! Perhaps due to its increased comfort, Revlon "Really Red" is not very long-lasting, at least less lasting than lipstick Russian Red MAC, but it can last 3-4 hours, and with a primer, it can last almost forever.
It is called Really Red not in vain. Yes, this is the most perfect red, without leaving a blue undertone.
I wear it without a pencil. Revlon "Really Red" slightly emphasizes wrinkles. You can notice it on macro shots, but in normal life I do not care, even if I look at myself in the mirror for a long time. The shade is really really red! I have been always looking for a similar shade and it looks awesome! I strongly recommend this "perfection", it's an excellent product for less than half price!
The Revlon brand is now exclusively represented in L'Etoile, it costs about $5.00 without discounts. I think I'll buy another one 🙂
Tip for a better result: use a liner.
2. E.L.F. Studio Matte Lip Color Rich Red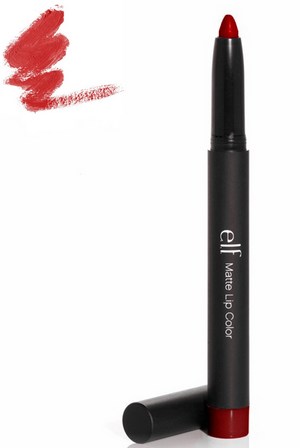 E.L.F. Studio Matte Lip Color Rich Red is a unique product that combines decorative and caring features. The company has developed a special formula, thanks to which your lips get an impeccable shape and beauty. It consists of vitamins A, E, C, and saturated pigments.
E.L.F. product has some excellent characteristics just like mac lipstick color Russian Red:
Protects from the negative influence of the environment;
Moisturizes, nourishes;
Prevents small wrinkles, premature aging;
Gives a magnificent matt finish;
Soft coating;
Light texture.
Lipstick-pencil ideally keeps the shape and lasts throughout the day.
The product is made in a pencil format, which emphasizes the contours well and allows you to quickly apply a decorative coating. In addition, it does not paint teeth and has a sweet taste. It costs about $3.00 which makes it a very cheap dupe.
Tip for a better result: apply and shade. Re-apply if necessary. For best results, apply the product after scrubbing the lips (you can do this in the evening) and moisturizing (before applying the lipstick, remove the layer of a moisturizing balm with a napkin).
3. Wet N Wild Stop Light Red
I first heard about Wet N Wild Stop Light Red on YouTube – almost all fashion bloggers included this product in their favorites. This product is the winner of the Allure Best of Beauty Award! Of course, I also wanted to try this miracle. Thanks to it, I bought all the other tones! The most interesting thing is that this MAC Russian Red dupe costs only $2.53! For such money, you can forgive cheap packaging and small problems with the application.
The main advantage of this product is its long-lasting effect and texture. After eating, the shade remains on the lips almost in its original form.
Things I like:
Steady color up to 4 hours;
Hyaluronic acid microparticles add a natural volume;
Exclusive polymer complex will make your lips soft and plump;
Composition: natural extracts of marine plants, coenzyme Q10, and vitamins A.
I wear 3 Wet N Wild very often, it looks good with both jeans and an evening dress. An excellent dupe!
4. Revlon Standout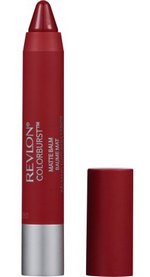 You have already heard anything Revlon cosmetics 🙂 Now, let me introduce you one more lipstick shade – Revlon Standout!
I fell in love with this balm and read all the information about this company. The lipstick-balm cares for the lips and gives delightful colors.
Benefits:
Beautiful shade;
Pleasant scent;
The effect of "cold". In the summer it's very cool. Refreshes your lips and kisses;
Easy application;
A large quantity of a product in packaging;
3 Wet N Wild does not dry my lips.
Cons:
It's unstable. The effect lasts 1 hour. Do not stand snacks;
Lips should be perfect. Lipstick (especially cheap lipsticks like MAC) can flow into all the cracks. You need to constantly check your makeup.
Still, I do recommend testing and buying Revlon Standout. I use this product from time to time and it makes me happy. Its price starts at $4.99.
Tip for a better result: you'd better scratch your lips before applying Revlon Standout.
5. NYX Electra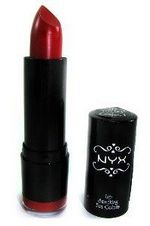 5 NYX Electra has the same moderate radiance and a very pleasant semi-maturing result like lipstick Russian Red MAC. The official website of the manufacturer says that this is a cranberry tone. I would be glad to confirm it, but I see strawberry-red. Too much pink for cranberries.
Consistency – a pure cream. Although this is a satin series, there is no discomfort, the product does not dry your lips. The whole series has no fragrance (if you do not get your nose in the package). I can not feel it. The coating is dense but lighter than the Lancome Rouge. 5 NYX Electra blocks the native pigment of the lips completely. Lasts for about 4 hours, begins to fade in the center during conversations.
If I knew that this shade suits me, I would buy a more lasting option. I have no other complaints. Although, I think that in this price category, you can hardly find a cheaper dupe. 5 NYX Electra price starts $1.99 only!
Tip for a better result: it looks better with a liner.
6. NYX Matte Perfect Red
NYX Matte Perfect Red is great for blondes and all girls with warm or neutral hair color. It's a worthy MAC Russian Red dupe for only $4.00.
The product is rather stiff, does not slip over the lips smoothly, as in any advertisement. But with the first application, it provides a bright color without additional layers. Its pigmentation is amazing! 7 NYX Matte is very resistant, however, the top layer still needs to be gently blotted with a napkin – this removes the extra gloss and makes the coating velvety and non-sticky.
What I like:
Ideally matt;
Clear, bright, perfect pigment;
Does not dry lips;
Does not slip into folds, evenly applied;
Due to the bright color, there is no need to apply in several layers.
I did not find any cons in this "Perfect Red". It is just what I need. I've bought this product just recently, but I can say for sure – it's almost identical to Russian Red MAC Matte in texture and color. So, why overpay?
Tip for better result: use a liner.
7. Maybelline 970 Daring Ruby
Maybelline 970 Daring Ruby is one of my favorites! I like high quality and the budget price – $5.49. It's a classic deep ruby, without a pinkish undertone, without orange.
Let's take a closer look: an elegant tube, a bright shade, a pleasant vanilla scent.
Application: applied smoothly, gently, without holes and stains, without dry sensations. But, since the shade is very bright, I recommend using a lip contour. But it can be applied without a liner as well. In fact, this is the most delicate lipstick I ever knew. Consistency is airy, soft is truly the easiest mousse – a pleasant sensation. The scent is pronounced, perfumed-vanilla, quite pleasant. Maybelline 970 Daring Ruby for ridiculous money surpassed all MAC Russian Red dupes! The result is great, at least the shade of DARING RUBY is completely sinless and behaves perfectly.
Tip for better result: in any case, 30 minutes before applying, I slightly moisturize my lips with balsam as a base.
8. Milani (Best Red)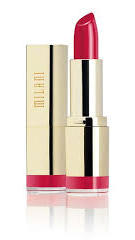 I found a perfect matte and super LONG-LASTING lipstick. I've heard about the brand Milani long time ago, but I tested its products only some months ago.
Let's start with the fact that Milani Best Red has a very stylish design (for girls it is very important). =) It has a sweet pleasant scent (however, I can't feel it after applying to the lips).
Pros:
Beautiful packaging;
Beautiful shade;
Long-lasting;
Economical – a small amount of the product is enough to make up the entire surface of the lips.;
Gives a good coating even if applied in a thin layer.
Pleasant scent.
Cons:
Like most long-lasting matte lipsticks, it dries my lips. Be sure to moisturize your lips before applying this product.
If you apply too much of the product, you will get not the most beautiful effect. I would say the effect of the clay lips.
In conclusion, I want to say that the effect and long-lasting effect of Milani outweigh its disadvantages. The price of Milani in my city is $4.99
Tip for a better result: pre-moisturize your lips so that Milani Best Red.
Thank you for reading my review! I hope you'll find your perfect MAC Russian Red dupe =)