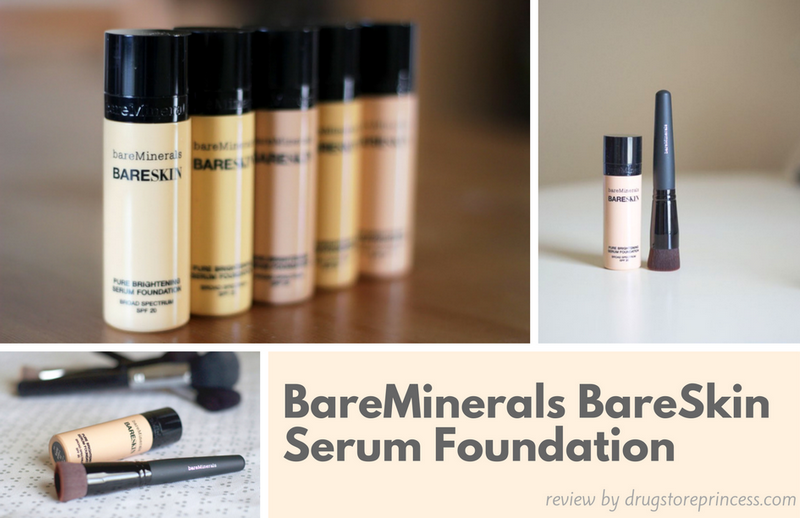 BareSkin Serum Foundation from BareMinerals Review
I am constantly in search of an ideal foundation that could hide noticeable imperfections, match in shade and not clog pores on face.
If naturalness of shadows and lipsticks still does not bother me, I want foundation to be natural, and moisturizing, and protective. Therefore, when I found out about the new BareMinerals serum, I immediately wanted to purchase it.
The manufacturer mixed correction tone from mineral foundation with clarifying serum into one tube and received BareSkin. Ultra-thin fluid, silky texture provides smooth coating, which can be adjusted by the number of drops applied to brush.
I always take the lightest shades in the line, because my skin is very white. I must say that BareMinerals has a rather wide palette of 20 shades. From Bare Skin foundation colors offered by manufacturer, you can easily choose your own, with which you will look natural. Make-up is not only not felt at all, but your face looks as if without it.
The manufacturer promises presence of SPF 20, absence of oils, silicones, parabens and perfume in composition, as well as equalizing, radiant coating that can be layered to desired density and, in the end, natural finish. Annotation to the product also says that it is suitable for all types of complexion and hypoallergenic.
BareSkin Serum Foundation Ingredients
Titanium dioxide 11.0%, caprylic / capric triglyceride, coconut alkanes, silica, stearalkonium, hectorite, lecithin, glycerin, maltodextrin, coco-caprylate / caprate, jojoba esters, propylene carbonate, tocopheryl acetate, soil minerals / syringa vulgaris (lilac) culture, magnesium ascorbyl phosphate, sodium hyaluronate, phenoxyethanol, mica, iron oxides.
Interesting in the Composition
Vitamin C is designed to refresh complexion and lighten pigmentation.
Lily Stem Cells are a powerful antioxidant, and also have healing properties. Help to protect skin from effects of environment.
Titanium oxide is a well-known physical SPF filter.
Now it is time to find out: is BareMinerals foundation good? I will describe my experience and impressions about this product, but I understand, that on other skin type this product may act differently.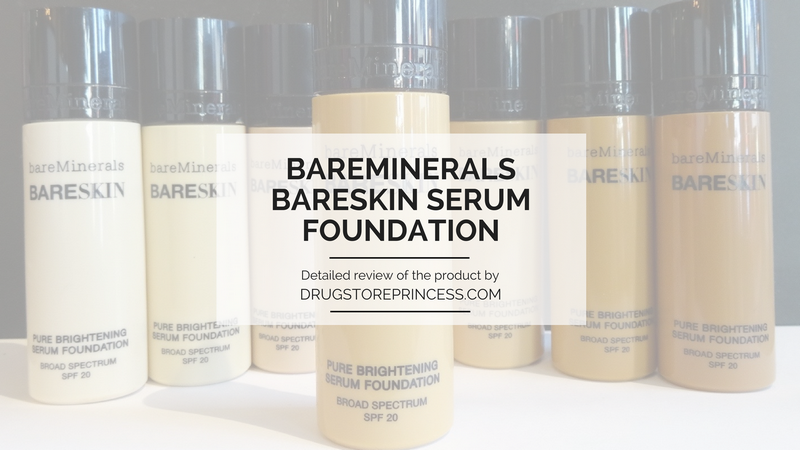 Consistency and Application
Very liquid. Sensations when applied, really, do not appear like anything that was tested before. It feels like oily light serum, and then any sensation of something on face disappears. It is extremely easy to blend.
Finish
Natural, not wet, not shining, not matte.
Masking Effect
It's very cool that degree of coverage can indeed be adjusted. The manufacturer recommends 2 drops for easy coating, 4 – for medium and 6 – 8 – for full. I don't know. Two drops are simply not enough for me, at least three – onу on the forehead and one on each cheek.
Durability
I strongly doubt about all types of skin, it seems to me it will fit dry and normal. On my dry / normal / slightly oily in T-zone skin BareMinerals BareSkin Serum Foundation behaves well. Powder markedly prolongs durability of the product.
In general, my skin looked naturally sunburnt with slight radiance, not satin, which can spoil everything with oily complexion, it is rather a natural glow of healthy skin. Caring components smooth out small wrinkles and make skin velvet. BareSkin does not emphasize peeling and does not give oily shine.
How to Apply
Together with Serum Foundation a special brush for its application has been created. According to BareSkin Minerals foundation reviews it is a good brush, but you do not need to spend money on it, if you are satisfied with your own brushes.
I apply theproduct either with fingers, or with Expert Face Brush by Real Techniques. I want to note that duofiber or any other not densely packed brush will give stripes and uneven coating.
Another important point: it is necessary to apply foundation as well as mineral powder, i. e. with rubbing movements.