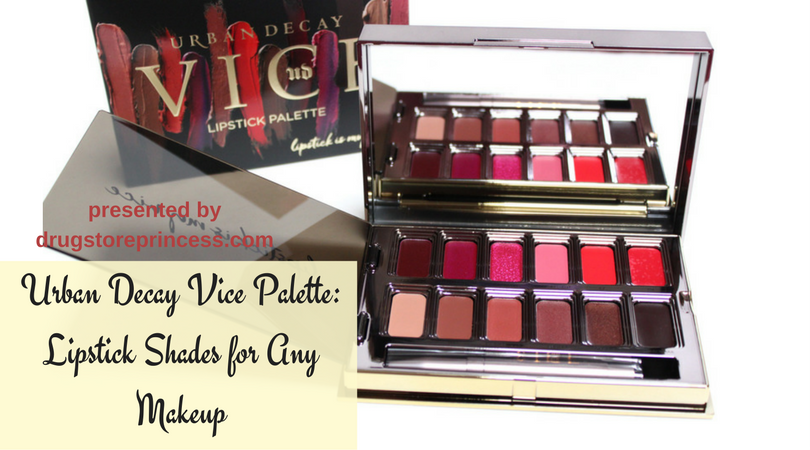 Urban Decay Vice Lipstick Palette with Colors Available
Every original look requires appropriate makeup. Experts of the American brand Urban Decay presented a colorful and versatile line known as Blackmail Vice Lipstick Palette, which amazes a wide variety of shades. Urban Decay lipstick colors include 12 shades of different temperature. Thanks to silky creamy texture, vice UD palette is perfectly put on lips, hide all imperfections, easily blending, smear-proof.
Decorative cosmetics have a high level of pigment, they keep a fresh look and a rich color for a long time. A comfortable brush allows you to accurately apply lipstick chosen and correctly highlight lips, creating a visual volume, juiciness and favorably emphasizing sensual lines. Due to compact size, Urban Decay lipstick palette will always be at hand and its owner will be able to create a makeup for your mood.
Urban Decay vice lipstick palette known as well as Blackmail Vice possesses various shades as mentioned above that's why I decide to provide you with possible colors and pictures of how it looks like.
Urban Decay Lipstick Colors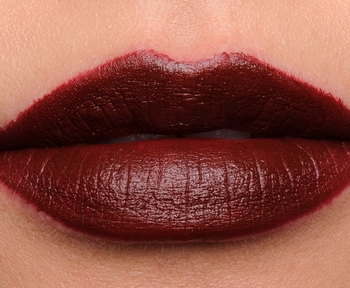 Disturbed (Comfort Matte) – dark brick red. A small note here, I can not call this matte shades of the Matte series, nevertheless they have some creamy reflection. This relates to all the lipsticks of this series in set. A beautiful deep color, which putting on requires special precision, it covers lips smoothly not from the first time, you need to take some effort. It feels comfortable when on lips making teeth more whitened, but it is not ideal, it emphasizes imperfections, but this problem can be solved with scrub and balm.
714 (Mega matte) – bright red. This means is chic matte red. It is applied with a little difficulty, but the shade is simply a "bomb". Bright, dense, comfortable.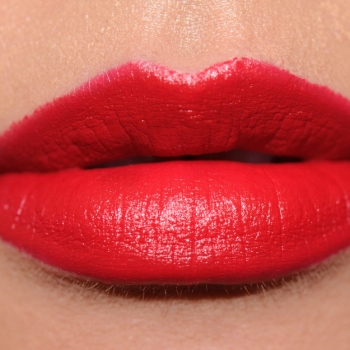 Carnal (Comfort Matte) – warm beige nude. Another extremely pleasant in every respect shade – it is neutral, but with a twist, a warm shade highlights it from the mass of out-of-tone shades and adds some 90's to the image. To the quality of claims there is no claim – it is applied gently, evenly, it covers lips pigment, does not dry skin.
Safe Word (Comfort Matte) – neutral beige-pink nude. By texture and temperature it is similar to the previous one, according to shade closer to classical nudes. This Urban Decay lipstick is also nice and suitable for many looks.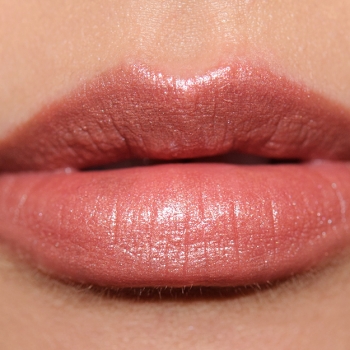 Studded (Metallized) is a gray-brown metallic. An interesting shade, infrequently you will meet a brownish-gray lipstick Urban Decay lipstick color. It is surprisingly comfortable, although it attracts attention. It is put on easily, the lip pigment does not completely overlap, I would like a more dense texture, perhaps in the stick it will be more pigmented. Due to its texture, this comsmetic means is not long-lasting. It will be interesting to try to apply it over the liquid matte, I think it will be possible to achieve an interesting effect. In general, lipstick is good, if you have a large collection and want something unusual, but I would not become acquainted with Urban Decay Vice.
Whip (Sheer Shimmer) – peach pink with golden shimmering. I did not understand what it was doing in this pallet. Transparent base with sparkles, completely not long-lasting and due to shimmering it is not the most pleasant on lips. It would be better to add some dark matte instead of it. Absolutely useless thing but it is my point of view, beauties.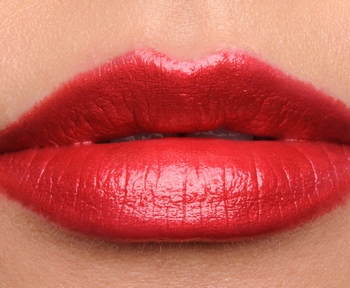 Wrath (Metallized) – red metallic. Interesting finish, but for this shade, a denser texture is needed, as it seems to me. Lipstick is not long-lasting, very creamy, but quite pigmented. It was my acquaintance with metallic trend, after which there was a beautiful Lime Crime Jingle and this quickly went into the background because of instability.
Big Bang (Metallized) – bright pink with pink sparkles. Really sparkling palette. I look at it and my mood rises But I only see it as a top cover for some matte lipstick. Separately, it still loses its beauty, my view upon this color. By durability, like previous metallics is short-lasting.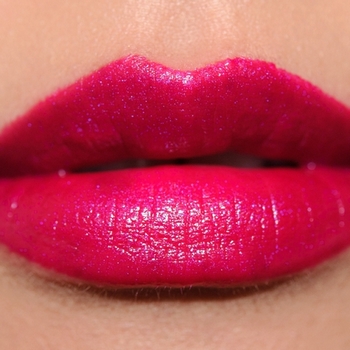 Firebird (Cream) – deep dark fuchsia. This is a rich color! Although it is applied easily and completely not matte, pigment in it is more than enough! And this is its drawback – lipstick is very strongly eaten in the lips and hands and can obtain an effect for several days. But the shade is a bomb, super bright fuchsia with a blue tint. I recommend using a pencil with it.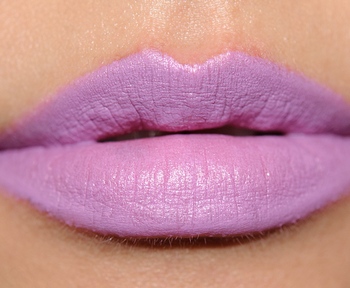 Vanity Kills (Mega Matte) – pink-lavender. As this is a mega-matte series, but this one is hard to put on and it will be necessary to dip brush many times to distribute it more or less evenly. Color is complex and very few people will do, without eye makeup support, I do not know how to wear it at all, it makes lips very yellow and reminds some kind of consmetic means from the very times when the neon lips were in trend.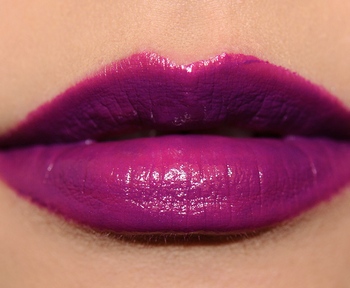 Speedball (Cream) – deep purple. A beautiful shade with long-lasting effect, but the formula did not please me – it's similar to Firebird, but even on the photo you can already see how lipstick began to smear along contour and pigment lies not exactly enough. I did not specifically use a pencil for a photo to show it in all its glory, and I do not have a pencil suitable for me. It seems to me that such a color would be more advantageous with a matte version.
Junkie (Metallized) – dark green with golden shimmering. The star of the selection – unfortunately, in fact it turned out to be not so bright and saturated, it is applied easily, but with a thin layer, not overlapping lips' shade. For this shade, this is very important, otherwise it will look sloppy and inappropriate. Unfortunately, it happened. It is quite suitable for creating an image for a theme party, but I do not represent it separately for everyday wear.
Beauties, you'd like to chose any means you like. You have a great variety of choice – everything you need is to buy this palette because Vice palette price is $25.00. I believe you find even one or two shades becoming your favourable ones. Your total look will be added by this palette by Urban Decay.