Rimmel BB Cream Matte: Review & Application
Hi everyone! Today I want to share my experience with Rimmel BB Cream Matte. I know you're already heard of such Rimmel beauty products, they became popular a few years ago. But this is an advanced version 9 in 1, which is completely different from other bases. I bought this new product in November 2016. So I think I've tested the cream enough and I can share my impressions in my review!
A few words about BB creams for make-up beginners
BB cream is a moisturizing cream, tonal base, sunscreen and primer in one tube. The abbreviation "BB" stands for "Blemish Balm, Beauty Balm, Blemish Base" – that is, a remedy masking skin imperfections. Manufacturers assure that BB has many important functions, including moisturizing, protection from sunlight, fighting wrinkles and signs of aging, smooth coating, elimination of oily shine, hiding unevenness and redness, skin whitening. Now every self-respecting cosmetic concern has its own BB cream.
BB Cream Rimmel 9 in 1: Promised Effects
The manufacturer promises the following effects: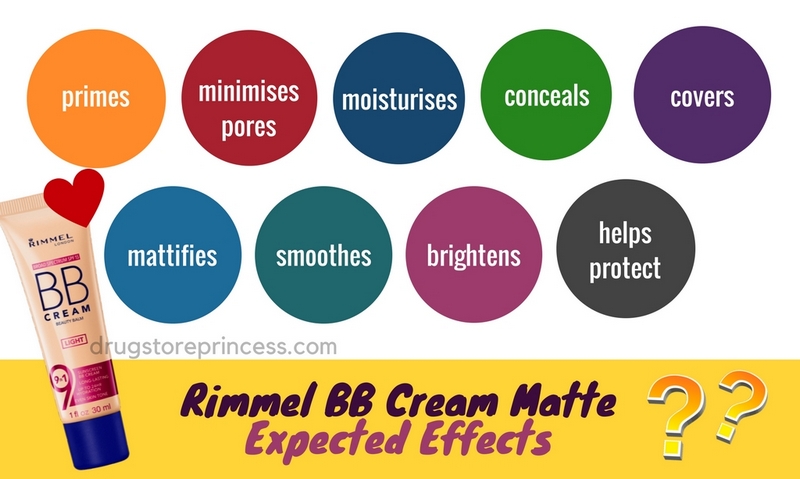 BUT:
Can emphasize peeling;
Can bridge pores.
I know that Rimmel has good foundations, and when this foundation went on sale, it interested me. What can we expected from it? So I got a good candidate for the "best matte BB cream" category. I've already tested such foundations by Garnier, La Roche-Posay, Clinique, Maybelline, Clarins and many others. Will this cream surpass these products in the quality / price ratio or, on the contrary, will not worth spending money?
Price: The price for BB Cream Rimmel starts from $4.82.
Packaging: a completely standard tube, with no noticeable design. Well, nothing surprising. A dispenser is convenient, dosing is very easy.

Scent: The product smells very pleasant, it seems to me that it is floral. But your friends can smell it, so I can not call it a faint scent, it's felt for several hours.
Texture: The texture is rather dense. To be honest, it doesn't seem like a BB cream makeup – it is more like a dense foundation. It is easily spread over the skin with a wet sponge.
Shades: Rimmel BB Cream Matte is presented in 2 shades only: Light and Medium. I have a Medium version, it's just perfect for tanned skin, but I'd probably need a bit darker tone, although maybe I'm wrong. It has a pink undertone. But it merges well with my skin, the main thing is to choose a shade correctly.
9 in 1: Features in Detail Based on Personal Experience
Primer: As a primer, it works just as perfectly as a professional cream. Rimmel BB Cream foundation controls the gloss on my T-zone and smoothes my skin, thus providing a perfect make-up surface like a canvas:). In this category, the score is excellent;
Moisturizing: whatever you think, any BB-cream SHOULD be moisturizing. Rimmel does not fail in this category as well. It moisturizes my skin well and keeps it moisturized all day;
Minimizing pores: As mentioned above, this base minimizes pores as it perfectly adapts to the tone. It does not clog the pores and is not felt on the face. For me, this is one of the most important aspects;
Concealer: I would reduce the score here by one point. This "9 in 1" does not hide imperfections as well as the concealer does, but if you have very light spots and redness, this cream will work like magic;
Skin cover: The base creates a complete illusion of perfect skin. I have to admit – it's a super perfection BB cream, I'm telling you!
Smoothing: Since it moisturizes and tones the skin, you can feel your skin is more smooth and soft. The highest score in this unit;
Matting: The product has a matte base. This feature makes this product an excellent primer for controlling the fat content in the skin and a perfect mattifying BB cream. The effect lasts for the whole day!
Brightness: The base gives my skin a healthy glow. It's very natural due to a soft, weightless texture. I give a perfect score here;
Protecting: BB-Cream has an SPF 25 filter, which is good enough for a little protection besides your usual sunscreen.
Overall impression
Probably, if there were not so many promises from the manufacturer, I could give this product the highest rank.
In my case, the base is spread evenly and the layer is very thin, I can not feel the cream on my skin. I even asked whether my husband whether he could see any cosmetics on my face. He only noticed my mascara, that was all 🙂 not a word about about any foundation in my makeup.
In the heat, the cream is still there, on my skin, and it was a real savior! It was +30 and even +35 in summer, and my skin became slightly shiny. In general, I like BB cream shine control function. Usually, I use a powder, and my skin looks much better.
The base is washed off easily with a usual cleanser, I need no special agents for that, just in case, I prefer to wash off my makeup with a usual cleanser and then I use a cleansing gel.
I like that the cream gives my face a fresh and healthy look. The only shortcomings: it does not minimize the pores as perfectly as I have expected, I though the effect would be better, but after all, I put a thin layer on my skin, maybe that's why it does not mask imperfections properly. These are my impressions 🙂 I'd also like to share this useful video with you, where you will be able see how to apply Rimmel BB cream and learn some useful tips! Enjoy 🙂
Conclusion
Rimmel BB Cream Matte is a real godsend for me. Although the manufacturer gave a lot of promises that do not quite true, the cream did not cause me unpleasant emotions and completely suits me. This cream is really what I need every day. I recommend it. There is one thing I want to mention: it is very important to choose a correct skin tone just like when you are buying a foundation or powder. And yes, this product with anti shine effect is more suitable for dry, normal and combination skin types, women with oily skin should choose some other bases.
Thanks for your attention! 🙂