Margot Robbie as Harley Quinn Makeup – Step-By-Step Tutorial
In order to cosplay Harley Quinn's makeup, you will need the basic beauty products that can be found in any beauty kit. But you need to prepare, as well, in advance several specific products: blue, red eyeshadows and a gel to create a moist effect on the eyelids. I was asked to how to do harley quinn makeup almost 100 hundred times that's why I made up my mind to pick up and arrange products' list necessary to creating this face makeup of Margot Robbie from "Suicide Squad".
Step by Step Instruction
Moisturize skin. Apply a matte foundation and concealer under the eyes for a perfectly even finish. It is better to choose shades half a tone lighter than the natural skin color in such a way all other makeup elements will look brighter.
Fix the tone with a translucent finishing powder.
The eyebrows of Margot Robbie, Harley Quinn actress, are neat and clear, styled very naturally. A microfiber eyebrow tint gel with fit natural brush will help achieve the same effect. First, use it to comb the hairs up, and then shape the eyebrows and fix the result.
Use a dark brown pencil to underline the lower border of the eyes, visually lengthening them using the arrows. Then use the arrows slightly outside the eyes towards the temples.
Apply shadows of blue and red shades on the moving eyelid with a flat brush on the right and left eyes, respectively.
Using your finger, spread the wet gel over the eyelid, slightly covering the line. Put the second layer on of the shadow shades on top of the previous layer. It is important to do this as carelessly as possible.
Apply blue and red shades to the lower borders of the eyes, focusing on the outer corner. Using an angled eyeshadow brush, draw down smudges that simulate tear marks in a chaotic manner.
Using a gel pencil, draw the border of the eyes from up to down. Imagine you don't have a mirror, or just move it aside – your makeup should also look untidy. Don't put your eyeliner in a clear arrow: this makeup is a mask of chaos and light madness.
Apply volume black mascara in one layer. It is important that the lashes are not perfectly made and separated. Follow the instructions for creating "spider" lashes to get lush, but not too neat lashes like Harley Quinn eye makeup.
Finishing steps are red lips and a small heart under the right eye with blue tears (to create this, use a regular black pencil or waterproof eyeliner).
Harley Quinn Suicidé Squad makeup pleases you! If you still have some questions, you are welcome to watch a video one of the most popular on youtube:
Harley Quinn makeup products – palettes, lipsticks, foundations, mascaras
High Definition, Warm Ivory, NYX Professional Makeup
High Definition cream is an ideal product for making photos and video: it evens out the skin, hides pores and fine wrinkles. It also has a caring and protective effect (stimulates collagen production and enhances the skin's ability to regenerate).
Apply it with a brush or fingers. In order to create a dense foundation, use a sponge and apply several layers at once. For better durability, you can apply a primer from the same line. The skin will feel comfortable all day long: the cream contains babassu oil, sunflower seeds and kaolin.
Studio Finishing Powder, NYX Professional Makeup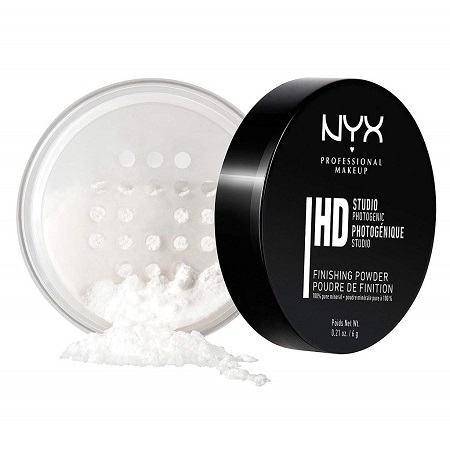 This finely ground mineral powder is designed to fix makeup. Its texture is transparent, mattifying and smoothing the skin (it works on the principle of instagram filters), and also pigments that reliably adhere to the skin and provide long-lasting makeup.
Use a natural fluffy brush to apply and create a light coating. To get a matte effect, cover properly the areas prone to oily with a sponge brush. Important: powder can be applied both independently and in combination with the foundation.
Lid Lacquer, NYX Professional Makeup
NYX Professional Makeup created a special product for a trendy wet effect on the eyelids. It instantly gives your skin a moist glow – just apply it on clean skin or over the eyeshadow (you can supplement it with arrows and smokey ice). The product has a gel texture that leaves a beautiful glossy effect on the skin.
Ultimate Shadow, 04, NYX Professional Makeup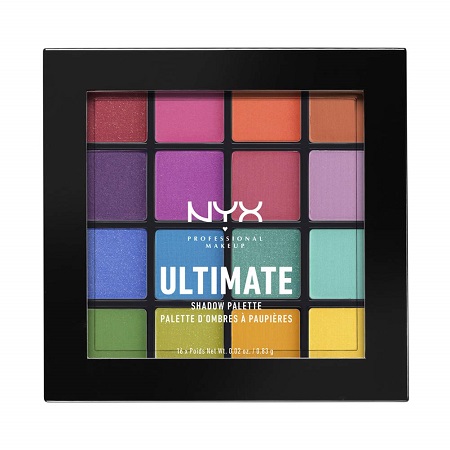 All the brightest shades of eyeshadow were collected in the Ultimate Shadow palette fit for Harley Quinn makeup. They, firstly, contain a large amount of color pigments, and secondly, they lie on the skin in a dense layer, and thirdly, they provide a rich color. Apply with a flat brush. For blending, choose round or angled with a longer bristle brush. Use eyeshadow paired with an eye primer to make your makeup look not only bright, but also long-lasting.
The Colossal Big Shot, Maybelline New York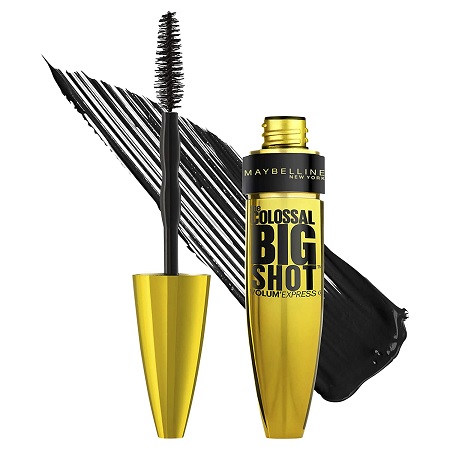 You don't need to apply multiple layers of mascara to add volume to your lashes. The Colossal Big Shot, thanks to its high-pigment-picking brush, lets you color lashes from root to tip and add volume without weighing them down or clumping. For maximum effect, apply a little more mascara than usual to the lashes. To make them more expressive, additionally put mascara on both the upper and lower lashes in the outer corners of the eyes.
Brow Precise Fiber Filler, Maybelline New York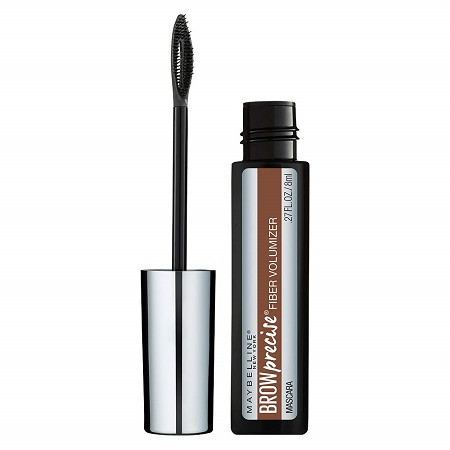 The new eyebrow mascara from Maybelline New York lets you make eyebrow makeup with just a few lines. Microfibers in the composition fill in the gaps and add volume to the hairs, a special brush sets and helps to put it on evenly. Thanks to the gel formula, eyebrows look thicker. Start putting it on over the eyebrow with movements from bottom to top. Choose dark shades to make your makeup more expressive.
Paint lips like Harley Quinn
Use the lip liner to draw the contour. The lip pencil will not only help to gently apply lipstick, but also add durability to the makeup. The original version of Harley Quinn lips uses a matte lipstick tone, but you can use gloss to add extra volume. In any case, pay special attention to how smooth the contour is. Against the background of pale skin, red lips will look especially bright and every inaccuracy will be visible on them. You can also paint some lipstick on your chin according to your look. This will make the look more daring and informal. It will look especially canonical on the right side of the face.
One of the best options is Nouba Millebaci Liquid Lip 07.

You can also use other options for red lipstick for this look:
NYX PROFESSIONAL MAKEUP Matte Lipstick
Vivid Red Lipstick
MAC Lipstick Satin Lipstick MAC Red
NYX PROFESSIONAL MAKEUP Extra Creamy Round Lipstick – Chaos, Strawberry Pink

Other looks of Harley Quinn
The film "Suicide Squad" is just one of the appearances of the Joker's crazy girlfriend on the TV screen. The series "Arrow" and "Birds of Prey", the cartoons "Batman" and "Justice League", as well as several series of comics – everywhere Harley Quinn appears in a new, albeit well-recognizable, look. Both the costume and the makeup, in all cases, have their own characteristics, which can also be relied on when cosplaying the look of this heroine. Finally, you may want to give your wholly preference to an option other than that in Suicide Squad.
So, for example, the famous red and black look of a harlequin implies the same red lipstick and a small black mask over the eyes. You can imitate this mask using bold eyeliner lines or dark gray and black shadows. At the same time, dead pallor remains an important part of makeup.
In one of the comics, you can find a look variant when the right eyelid is drawn with blue shadows, and the left one is pink. At the same time, there are no streaks, the eyelashes are longer and lush, and the hair on the head is half red, half black, which makes Harley no longer an eccentric girl, but an elegant lady with a peculiar taste.
In the Suicide Squad comic, Harley Quinn can be seen with great smudges of black eyeliner under the lower eyelid. At the same time, her eyebrows are painted black and thin, and her hair is entirely colored red and blue. This makes her an intermediate between the early comics and the image that this heroine received after the "reboot of the DC Comics universe."
It is up to you to choose the look of this "crazy" girl. You can choose exclusively the movie "Suicide Squad", or you can let your imagination run wild and create something new. It remains only to preserve the main distinguishing features of the character in the make-up – white skin, red lipstick, black-outlined eyes and a heart under the eye.